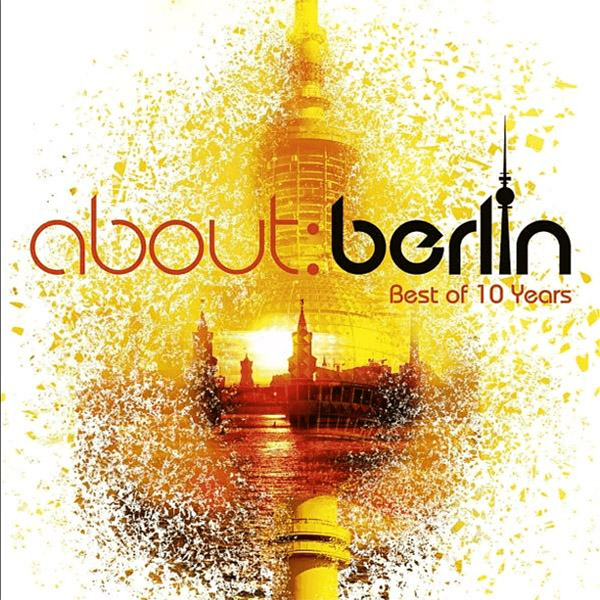 Die Tage werden wieder länger und Berlin erwacht langsam aus dem Winterschlaf der letzten Monate. Kein Produkt steht so sehr für die warme Jahreszeit in der Hauptstadt wie about: berlin. Über die letzten 10 Jahre sind insgesamt über 20 Ausgaben der beliebten Compilation erschienen. Schon der Sonnenuntergang mit Blick auf die Oberbaumbrücke auf dem Cover, lässt den unbeschwerten und freiheitsliebenden Vibe, der dieses Produkt umarmt, erahnen. Beim Hören füllt sich das Herz mit Wärme und die Sehnsucht, nach dem ersten Sommertag des Jahres wird größer. about: berlin ist genau das was wir uns gerade alle wünschen: eine laue Sommernacht mit guten Leuten und den besten Hits der letzten 10 Jahre, um endlich wieder befreit und ohne Sorgen tanzen zu können.
Auf der vorliegenden Jubiläumsausgabe »about: berlin – Best Of 10 Years« finden sich die beliebtesten Hits neben den größten Künstler: innen der letzten Dekade nebeneinander. Um das richtige Setting zu schaffen startet die Compilation gleich mit Klangkarussel, Will Heard und ihrem gemeinsamen Song »Sonnentanz – Sun Don't Shine«. Das ist jedoch längst nicht das einzige Highlight.
Jeder einzelne Song der aktuellen Ausgabe hat das Konzept von about: berlin in den letzten 10 Jahren geprägt und zu dem gemacht, was es heute ist. In guter Gesellschaft stehen hier Paul und Fitz Kalkbrenner gleich neben Robin Schulz und Kygo. Felix Jaehn genießt dabei die Aussicht auf seinen DJ-Kollegen Lost Frequencies und seinem Hit »Are You With Me. In dieser Konstellation lässt es sich auf jeden Fall aushalten – für die Künstler: innen und besonders für die Hörer: innen. Neben den absoluten Klassikern der Reihe finden sich auch neue verheißungsvolle Songs wie »Beacuse You Move« von Tinlicker und Helsloot oder »Friendships (Lost My Love)« von Pascal Letoublon und Leony, die schon bald einen ähnlichen Kultstatus erlangen könnten.
Das Lebensgefühl Berlins gepresst auf 4 LPs. Mit »about: berlin 10 Years« lässt sich das After-Work Kaltgetränk deiner Wahl in der Abendsonne Berlins wieder in vollen Zügen genießen. Und selbst, wer nicht vor Ort ist, bekommt einen Hauch der besten Zeit des Jahres in der Hauptstadt direkt nach Hause. Ein Muss für alle Fans und die, die es noch werden wollen!