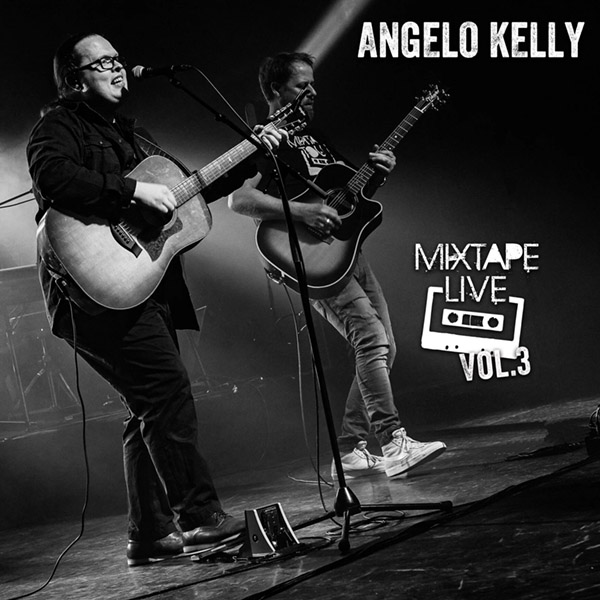 Im Frühling 2023 ging Angelo Kelly gemeinsam mit dem Multiinstrumentalisten Matthias Krauss auf »Mixtape Tour Vol. 3«. Die Resonanz war riesig und die Songauswahl war wieder mal sehr überraschend! Was das Mixtape Konzept ausmacht ist, wie die Beiden es schaffen aus Liedern, die man schon kennt, ganz andere Versionen zu schaffen. Die Songs haben alle eine sehr persönliche Note und sind nicht nur anders, um anders zu klingen.
»Titanium« von David Guetta in dieser Form zu hören, macht einem erstmal bewusst, was in so einem Dance Track drinsteckt, »Angels« von Robbie Williams ist nicht so einfach zu covern, aber bei dieser Version bekommt man direkt Gänsehaut! Mit »My Hero« und »Sweet Child Of Mine« wird die Bühne gerockt! Einen »Iron Maiden« Song hätten wohl die wenigsten erwartet, aber die Version von »Wasted Years« wird bestimmt einige dazu bringen, sich das Original anzuhören.
Bei den insgesamt 18 Songs gibt es ein paar Lieder wie »Purple Rain« und »Who Wants To Live Forever« wo man zuerst denkt: »Das kann man gar nicht covern.« Es sind aber genau diese Stücke, die einen umhauen und zeigen welche Freiheit sich Angelo Kelly mit seinem Mixtape Konzept nimmt. Großartig!
Mixtape Live Vol. 3 erscheint als CD in einem schönen Digipack Design. Das Highlight ist aber ganz klar die Vinyl Edition. 2 x Splattered Vinyl in einem Gatefold und dann gibt es ein wunderschönes 8 Seiten großes Booklet mit Tourfotos und persönlichen Geschichten von Angelo zu jedem der Songs.
Künstler: Angelo Kelly
Titel: Mixtape Vol. 3
Label: Universal
Erscheinungsdatum: 28.07.2023
Auflage: n/a
! Bitte immer die Beschreibung (Variante/Ausführung) auf den Verkaufsplattformen beachten !
Das Datum basiert auf Vorabinformationen unserer Partner. Es ist ohne Gewähr und kann sich jederzeit ändern.