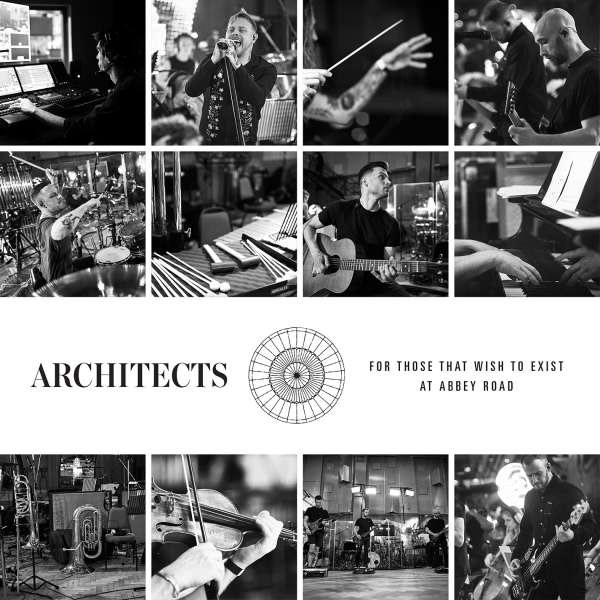 Das Live-Orchester-Album
Architects wurden im Jahr 2004 in Brighton, East Sussex von den Zwillingsbrüdern Dan und Tom Searle gegründet. Heute besteht die Band aus Dan Searle am Schlagzeug, Sam Carter am Gesang, Alex Dean am Bass sowie Adam Christianson und Josh Middleton an den Gitarren. Im Laufe ihrer Karriere veröffentlichte die Metalcore-Band neun Studioalben und 2022 kommt nun auch noch ein Livealbum: »For Those That Wish To Exist At Abbey Road«.

Der Name verrät ein paar wichtige Tatsachen: Das Album wurde in den legendären Abbey Road Studios in London aufgenommen, aber nicht wie bei einem klassischen Konzertalbum vor Publikum, sondern, coronabedingt, für eine globale Livestreamshow am 11. Dezember 2021. Dafür hatten Architects allerdings ein Orchester an ihrer Seite, und zwar das Parallax Orchestra unter der musikalischen Leitung des BASCA-prämierten Komponisten, Dirigenten und Arrangeurs Simon Dobson.

Gemeinsam spielten Band und Orchester ein 15 Songs starkes Set mit allen Songs aus ihrem 2021 erschienenen Album »For Those That Wish To Exist«, und zwar in chronologischer Reihenfolge. Neben Gitarren, Bass und Schlagzeug kamen nun allerdings auch Geige, Cello, Klavier, Pauken, Trompeten, Hörner und Posaunen zum Einsatz.

Angekündigt wurde das Album »For Those That Wish To Exist At Abbey Road« bereits mit dem Livemitschnitt des Songs »Impermanence«.
Künstler: Architects
Titel: For Those That Wish To Exist At Abbey Road
Label: Epitaph
Erscheinungsdatum: 25.03.2022
Auflage: bei EMP 500
! Bitte immer die Beschreibung (Variante/Ausführung) auf den Verkaufsplattformen beachten !