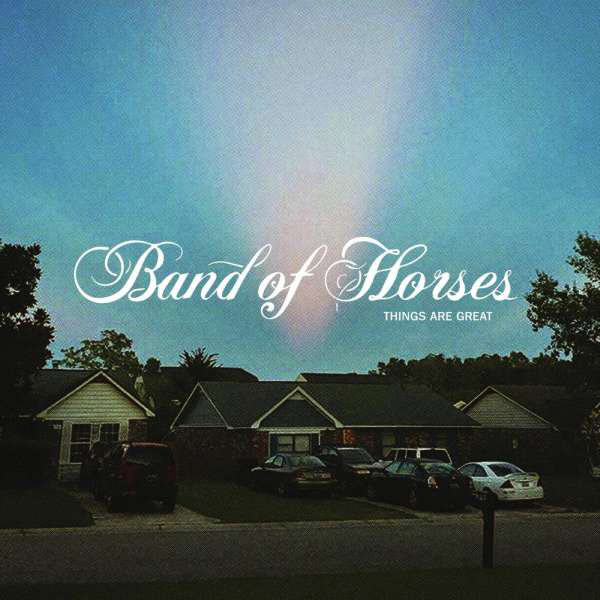 Alles wird gut: Band Of Horses mit neuem Album für 2022
Manchmal ist es wichtig, sich daran zu erinnern, dass nicht alles schlecht ist. Band Of Horses starten jedenfalls optimistisch ins Rockjahr 2022: mit ihrem neuen Album »Things Are Great«.

Sechs Jahre ließ sich die Indie-Rock- und Dream-Pop-Band aus Seattle für ihren sechsten Longplayer, den Nachfolger von »Why Are You OK« (2016), Zeit.

Mit dem Song »Crutch« haben Band Of Horses im Oktober bereits die erste Single veröffentlicht. Sänger Ben Bridwell sagt zum Song: »Ich denke, wie viele meiner Songs beginnt auch ›Crutch‹ mit etwas aus meinem wirklichen Leben. Offensichtlich meint ›Crutch‹ [Krücken] einige der Dinge, von denen ich abhängig war. Zum Beispiel meine Beziehung. Ich glaube, ich wollte sagen: ›Ich bin in dich verknallt‹, und ich fand es lustig, dass sich Beziehungen auch wie Krücken anfühlen. Ich habe das Gefühl, dass jeder schon einmal eine Zeit erlebt hat, in der nichts richtig lief und man trotzdem weitermachen musste. Ich denke, dieses Gefühl trifft einen in diesem Song, auch wenn man nicht weiß, was die Einzelheiten sind.«

Insgesamt warten zehn neue Songs auf »Things Are Great«, die Bridwell selbst oder als Co-Producer mit alten Weggefährten wie Dave Fridmann, Jason Lytle und Dave Sardy, größtenteils in Zusammenarbeit mit dem Tontechniker Wolfgang »Wolfie« Zimmerman, produzierte.

Band Of Horses wurden 2004 gegründet. Die Gruppe veröffentlichte bislang fünf Studioalben, darunter das Grammy-nominierte Album »Infinite Arms« (2010), das weltweit mehrfach die Top 10 erreichte. Die Besetzung der Band wechselte im Laufe ihrer Karriere. Das jüngste Line-up, bestehend aus Ben Bridwell, Ryan Monroe, Tyler Ramsey, Bill Reynolds und Creighton Barrett, war mehrere Jahre zusammen und nahm drei Alben auf. Ramsey und Reynolds verließen die Band allerdings im Jahr 2017 und haben nicht mehr an »Things Are Great« mitgewirkt.
Künstler: Band Of Horses
Titel: Things Are Great
Label: BMG Rights
Erscheinungsdatum: 21.01.2022
Auflage: n/a
! Bitte immer die Beschreibung (Variante/Ausführung) auf den Verkaufsplattformen beachten !