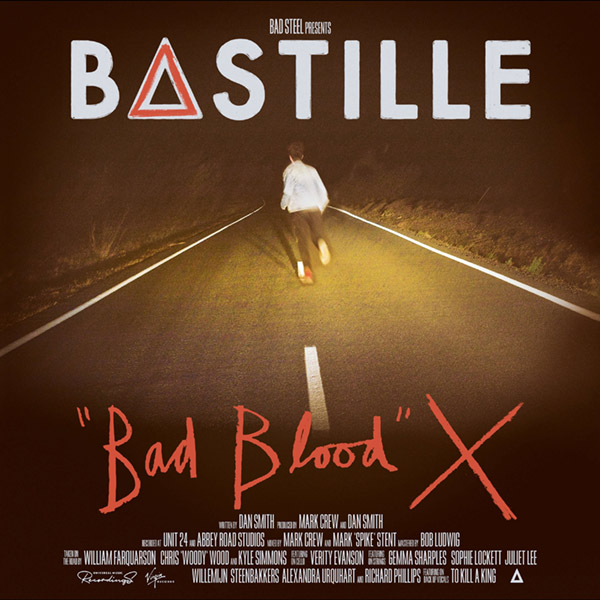 Rückblick 2023: Bad Blood wurde am 4. März 2013 veröffentlicht. Das Debütalbum von Bastille erreichte Platz 1 der UK-Albumcharts und hielt sich drei Wochen an der Spitze.
Es wurde in Großbritannien mit Dreifach-Platin und in den USA und mehreren anderen Ländern mit Platin ausgezeichnet. Das für die Brit Awards 2014 nominierte »British Album of the Year« enthält die Singles »Overjoyed«, »Bad Blood«, »Flaws«, »Pompeii«, »Laura Palmer«, »Things We Lost in the Fire« und »Oblivion«. Pompeii war die vierte Singleauskopplung aus dem Album und der Durchbruch der Band, die auf Platz 2 der UK Singles Chart landete. Es wurde der elftmeistverkaufte Song des Jahres und war bis Juni 2014 die meistgestreamte Single aller Zeiten in Großbritannien. Der Song wurde bei den BRIT Awards 2014 für die britische Single des Jahres» nominiert. Ein beliebter Dance-Remix des Titels von Audien wurde bei den 57th Annual Grammy Awards als ›Best Remixed Recording, Non-Classic‹ nominiert.
Viele Songs des Albums wurden in der Popkultur verwendet und tauchten in Serien und Filmen wie The Vampire Diaries, Eastenders, Grey's Anatomy und The Good Dinosaur auf, und der Cast von Glee führte ›Pompeii‹ in einer Abschlussfolge der Staffel auf. Der Song ist auch Mitglied im Club der Milliarden Streams auf Spotify, mit derzeit 1, 23+ Milliarden Streams. Bad Blood war auch das meistverkaufte digitale Album des Jahres 2013.
Um den 10. Jahrestag des Albums zu feiern, hat UMR mit Dan Smith zusammengearbeitet, um eine Verpackung mit Klappcover, eine farbige LP (farbiges Vinyl) und eine brandneue 7«-Vinyl mit zwei nie zuvor gehörten Demos, »Racing Heart« (Laura Palmer Demo) / »Poet« (Dan's Bedroom Demo), die im Loft von Dans Eltern aufgenommen wurden, zu produzieren. Ein 16-seitiges 12×12 Buch mit neuem Artwork, Notizen von jedem Bandmitglied und ungesehenen Bildern. Das Artwork enthält außerdem handschriftliche Anmerkungen und eine Track-Liste von Dan. Im Inneren des Klappbuchs befindet sich außerdem ein zweiseitiger 12×12 Einleger mit einem alternativen Cover und einem ungesehenen Bild.
Künstler: Bastille
Titel: Bad Blood X
Label: Virgin
Erscheinungsdatum: 14.07.2023
Auflage: n/a
! Bitte immer die Beschreibung (Variante/Ausführung) auf den Verkaufsplattformen beachten !
Das Datum basiert auf Vorabinformationen unserer Partner. Es ist ohne Gewähr und kann sich jederzeit ändern.