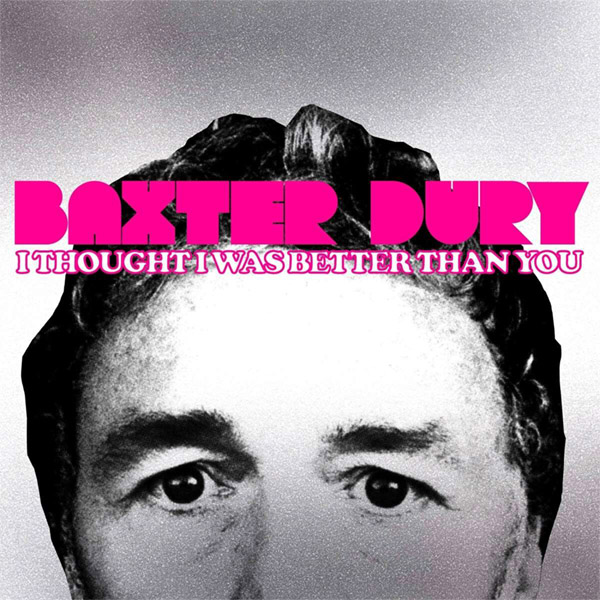 Baxter Durys neues und siebtes Studioalbum heißt 'I Thought I Was Better Than You'. Mit ordentlich Selbstironie und Sprachakrobatik malt der Musiker und Schriftsteller eine wilde Collage aus schrägen Träumen und Szenen, in der Baxter mit seinem Erwachsenwerden abrechnet. Doch anstatt nur mit einem Baseballschläger blindlings auf seine Vergangenheit einzuschlagen, spricht er offen über den giftigen Cocktail, in unglückliche Umstände hineingeboren zu werden, ohne richtige Strukturen oder Verantwortungsgefühl, und schwankt dabei zwischen "Fuck you Leon…/ You stole the sunglasses and I got busted" und dem Wunsch nach "Porridge in the morning and be normal".
Mit kaum funktionierenden Maschinen arbeitete Baxter alleine in seinem Wohnzimmer an groben Demos, die er Produzent Paul White (Danny Brown, Obonjayer, Charli XCX) übergab, der sie in wiederum in seinem Wohnzimmer mit etwas besserem Equipment zum Leben erweckte. Auf der ersten Single 'Aylesbury Boy' erzählt Dury von Day Ghosts und Personen, die lieber durch die Straßen streifen und die Schule meiden, aber auch enttäuschten Erwachsenen, die genau diese Entscheidungen bereuen. In Kombination mit dem swingenden Westcoast-angehauchten Hip-Hop-Beat und Spoken-Word-Elementen ergibt sich dabei eine besondere Kombination aus Humor und Mitgefühl, die Baxters gezeichnete Bilder begleitet. "This song is about coming from one place and arriving at another without fitting in to either, and I think of these people like characters from Studio Ghibli's Spirited Away."
Erhältlich als:
Standard "Black" Vinyl +MP3
Limited Edition "Pink" Vinyl +MP3
Künstler: Baxter Dury
Titel: I Thought I Was Better Than You
Label: PIAS
Erscheinungsdatum: 02.06.2023
Auflage: n/a
! Bitte immer die Beschreibung (Variante/Ausführung) auf den Verkaufsplattformen beachten !
Das Datum basiert auf Vorabinformationen unserer Partner. Es ist ohne Gewähr und kann sich jederzeit ändern.