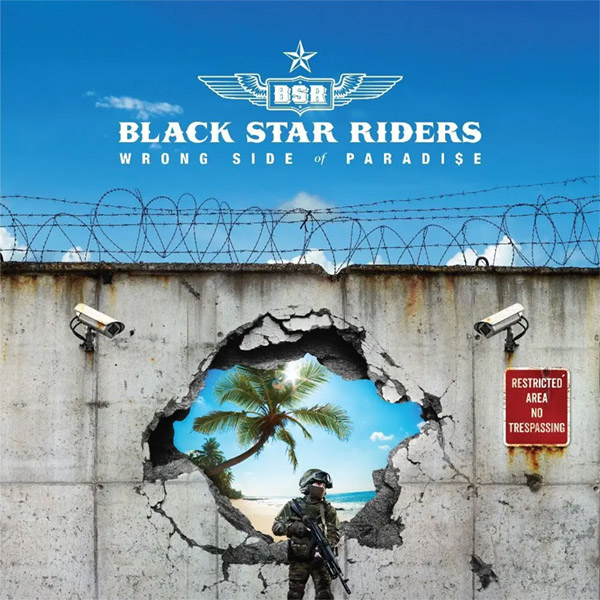 Die Meister des hymnischen Rock'n'Roll Black Star Riders sind stolz, ihr neues Album mit dem Titel »Wrong Side Of Paradise« ankündigen zu können. Das Album mit 11 Tracks wurde im Herbst 2021 im Studio 606 in Northridge, Kalifornien und Toochtoon Sound in Redmond, Oregon mit dem Produzenten und langjährigen BSR-Mitarbeiter Jay Ruston aufgenommen.
Mit Ricky Warwick (Leadgesang/Gitarre), Robert Crane (Bass), Christian Martucci (Gitarre) und Schlagzeuger Zak St. John wird die Band am 6. Juni 2022 ihre erste Single und ein Video mit dem Titel »Better Than Saturday Night« (mit Backing Vocals von Joe Elliott von Def Leppard) veröffentlichen. Das Video zeigt eine blitzschnelle Performance der viermaligen UK Top 25 Band und lässt den Betrachter ein Standard-Rockvideo-Klischee vermuten, bevor es mit dem Auftritt der rauen Roller Derby Dolls auf den Kopf gestellt wird.
Über das Album sagt Ricky: »Ich bin sehr stolz auf dieses Album, Black Star Riders fünfte Veröffentlichung und die erste mit unserer neuen und aufregenden Beziehung zu Earache Records. Wie alle BSR-Alben ist auch ›Wrong Side Of Paradise‹ eine hymnische Absichtserklärung, angetrieben von wilden Gitarren und donnernden Drums. Ich kann nur über meine eigenen persönlichen Erfahrungen schreiben, über meine Familien, meine Freunde und darüber, wie ich eine Welt sehe, die sich schneller verändert, als wir sie begreifen können. Davon abgesehen glaube ich fest an die Kraft der Positivität, etwas, das in diesem Album widerhallt.«
Limitiertes Box-Set von Black Star Riders mit folgendem Inhalt:
– Das neue Album auf Half Black / Half White Vinyl)
– Exklusive 2-Track 12″ Orange Vinyl
– 24-seitiges 12″-Booklet
– signierte CD
– Special Edition CD mit 2 Bonus Tracks
– USB-Stick mit Black-Star-Riders-Logo mit Hi-Res Digital Download des kompletten, 13 Tracks umfassenden Albums (MP3 und WAV)
Oder als "White" Vinyl erhältlich.