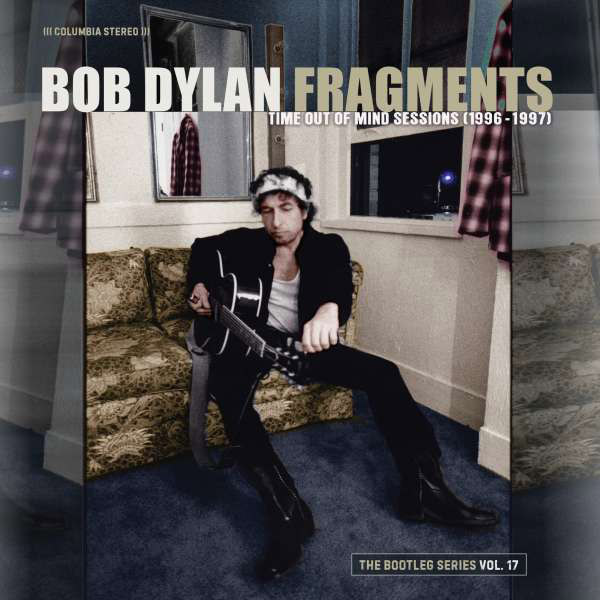 Die neue Ausgabe der Bootleg Series von Bob Dylan, »Fragments – Time Out Of Mind Sessions (1996-1997): The Bootleg Series Vol. 17« erscheint als 5 CDs umfassendes Deluxe Boxset sowie als Standard-Version auf 2 CDs oder 4 LPs. Sie enthält in der Standardversion das Album »Time Out Of Mind« in einem 2022er Remix sowie zwölf ausgewählten Outtakes und Alternativversionen.
Volume 17 der gefeierten Dylan-Reihe wirft 25 Jahre nach seiner Erstveröffentlichung einen neuen Blick auf das Meisterwerk »Time Out Of Mind« und zeichnet dessen Entstehung nach. Angefangen bei den bislang unveröffentlichten Song-Fassungen aus den 1996er Teatro-Sessions mit Dylan (Gesang, Gitarre, Piano), Daniel Lanois (Gitarre, Orgel), Tony Garnier (Bass) und Tony Mangurian (Schlagzeug, Percussion) bis hin zu (ebenfalls unveröffentlichten) Live-Mitschnitten aus den Jahren 1998-2001.
Anfang 1996 begann Dylan, der seit der 1990er LP »Under The Red Sky« kein Album mit Eigenkompositionen veröffentlicht hatte, mit der Arbeit an neuen Songs. Von August bis Oktober ging er mit Daniel Lanois, der sein 1989er Album Oh Mercy produziert hatte, ins Teatro Studio in Oxnard/CA, um dort Demos für eine mögliche neue LP aufzunehmen.
Als die Songs im Januar des Folgejahres Form angenommen hatten, zog man ins Criteria Studio in Miami/FL um. Die Studiobesetzung wurde aufgestockt, und so fand sich in Florida ein illustrer Mix aus Session-Musikern und Mitgliedern von Dylans Tourband ein: Bucky Baxter (Akustikgitarre, Pedal Steel), Duke Robillard (E-Gitarre/Gibson L-5), Robert Britt (Martin Akustikgitarre, Fender Stratocaster), Cindy Cashdollar (Slide Gitarre), Tony Garnier (Bass, Kontrabass), Augie Meyers (Vox Orgel, Hammond B3, Akkordeon), Jim Dickinson (Keyboards, Wurlitzer E-Piano, Pumporgel) sowie die Schlagzeuger Jim Keltner, Brian Blade und David Kemper.
Das Album »Time Out Of Mind«, der schließlich aus diesen Sessions entstand, avancierte zu einem Dylan-Klassiker. Songs wie »Love Sick«, »Can't Wait« oder »Not Dark Yet« wurden zu Lieblingsstücken der Fans. Mit »Make You Feel My Love« gelang Dylan sogar das Kunststück, dem Great American Songbook einen neuen zeitgenössischen Standard hinzuzufügen. Zahllose Künstler, darunter Billy Joel, Neil Diamond oder Adele, haben diesen Song gecovert. Bei den Grammy Awards 1998 gewann »Time Out Of Mind« in den Kategorien »Album of the Year« und »Best Contemporary Folk Album«. Außerdem holte sich Dylan für »Cold Irons Bound« die Trophäe in der Sparte »Best Male Rock Vocal Performance«.