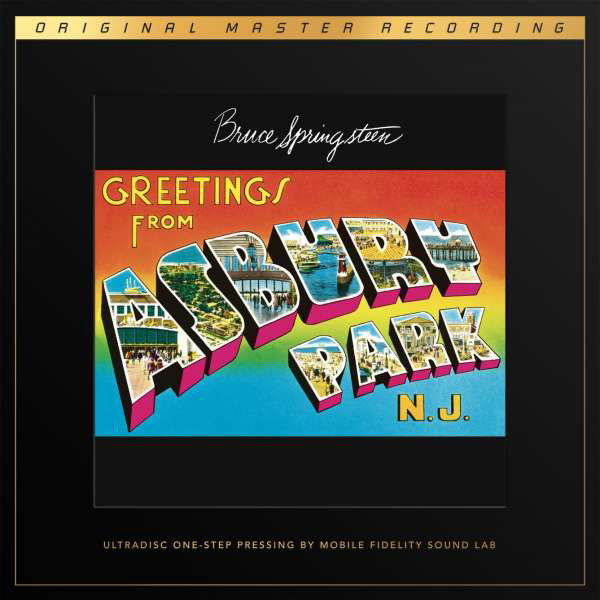 Das erste Studioalbum von Bruce Springsteen. Obwohl auf diesem Album Musiker mitwirkten, mit denen Bruce regelmäßig zusammenspielte und die später Mitglieder der E Street Band wurden (Clarence Clemons, David Sancious und Garry Tallent), wurde es als Soloalbum betrachtet. "Blinded By The Light" wurde später ein Nummer-1-Hit für Manfred Manns Earth Band.
Voller identifizierbarer Charaktere, jugendlicher Romantik, lebendiger Erzählungen und raffinierten Arrangements ist Greetings from Asbury Park, N. J. eine persönliche Postkarte aus dem Herzen, der Seele und dem Geist eines Rock 'n' Roll-Lebens, der seine Welt und das, was dahinter liegt, entdecken will.
Das Album aus dem Jahr 1973 begründet viele der charakteristischen Themen und Klänge, die Bruce Springsteen im Laufe seiner unvergleichlichen Karriere prägen sollten. Kein Wunder, dass ein Großteil der Songs – »Blinded by the Light«, »Lost in the Flood«, »Spirit in the Night« u. a. – zu den festen Bestandteilen der legendären Konzerte des aus New Jersey stammenden Musikers gehören. Der Spagat zwischen der Vision des Labels von ihm als Folk-basiertem Singer-Songwriter und seinem eigenen Wunsch, Rock 'n' Roll mit einer kompletten Band zu spielen, hat Springsteen nie wieder eine Platte wie diese gemacht.
Von den originalen analogen Masterbändern abgeleitet und bei RTI auf MoFi SuperVinyl gepresst, ist die nummerierte UltraDisc-Edition von Mobile Fidelity One-Step 180g 33RPM LP-Set die ultimativ klingende Version von Springsteen's gewagtem Debüt. Mit den Vorteilen von SuperVinyl, mit fast nicht vorhandenem Grundrauschen spielt Greetings from Asbury Park, N. J. mit einer Klarheit, Direktheit und Emotionalität, die einen praktisch in das New Yorker Büro entführt, in dem Springsteen dem legendären Columbia Records Manager John Hammond ein paar Originale vorspielte und einen Plattenvertrag erhielt.
Die Musik entsteht mit einer Offenheit, die den Erzählungen des Bosses Flügel verleiht. Seine Worte fließen mit ungezügeltem, bewusstseinserweiterndem Tempo und lebendiger Bildsprache. Ebenso wichtig ist, dass Springsteens immer noch unterschätzte stimmliche Leistungen nun in voller Klangtreue genossen werden können.
Künstler: Bruce Springsteen
Titel: Greetings From Asbury Park, N.J.
Label: MFSL
Erscheinungsdatum: 28.04.2023
Auflage: n/a
! Bitte immer die Beschreibung (Variante/Ausführung) auf den Verkaufsplattformen beachten !