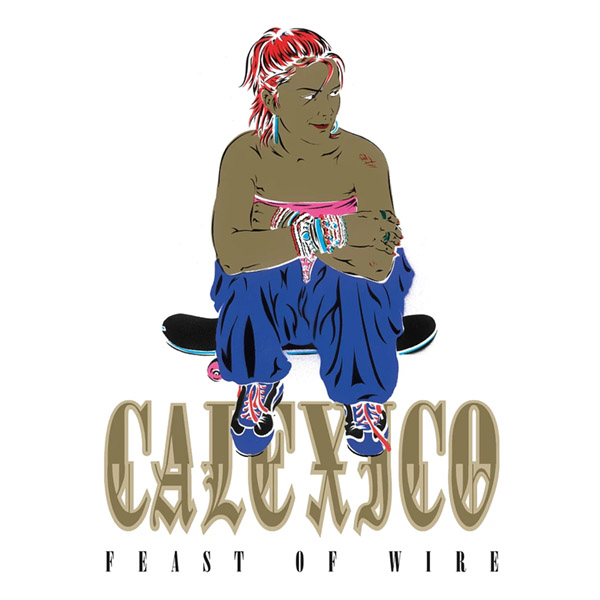 Wir freuen uns sehr, eine Deluxe 20th Anniversary Edition unseres 2003er Albums Feast of Wire zu präsentieren, die einen Bonustrack – unsere Studioaufnahme von Loves "Alone Again Or" zum ersten Mal auf Vinyl – und ein bisher unveröffentlichtes Live-Album enthält!
Das Live-Album More Cowboys in Sweden enthält 10 Songs von Feast of Wire, die 2003 im China Theatre in Stockholm, Schweden, live aufgenommen wurden.
Zur Feier der Veröffentlichung gibt es eine limitierte 3LP-Vinyl-Edition – eine einmalige Pressung von 4.000 Exemplaren mit dem Originalalbum, das als 45 RPM neu gemastert wurde, auf schwarzem 180g-Vinyl mit geprägter Hülle, erweiterten Liner Notes und mehr. Es gibt dazu auch eine 2CD-Ausgabe.
Rückblickend auf 20 Jahre Feast of Wire hat Joey folgendes zu sagen:
"Wenn ich an die Aufnahme von 'Feast of Wire' denke. Feast of Wire' denke, fällt mir ein, wie viel Zeit und Raum wir im Studio hatten, um alle möglichen Ideen auszuprobieren. Die meisten Aufnahmen begannen, wie so oft, mit John am Schlagzeug und mir an der Gitarre. Als die anderen Bandmitglieder hinzukamen, war es, als würde ein Fluss durch unser Unterbewusstsein fließen und wir konnten die Ideen gar nicht schnell genug auf analoges Band bringen.
Als wir mit dem Album auf Tournee gingen, hatte ich das Gefühl, dass die Band eine neue und höhere Stufe erreicht hatte – wir kamen zusammen und spielten einige sehr kreative und dynamische Shows. Es war eine aufregende Zeit, und die auf der Bühne erlebte Energie entwickelte sich zu einem Ensemble, auf das ich wirklich stolz bin."
Künstler: Calexico
Titel: Feast Of Wire
Label: City Slang
Erscheinungsdatum: 26.05.2023
Auflage: n/a
! Bitte immer die Beschreibung (Variante/Ausführung) auf den Verkaufsplattformen beachten !
Das Datum basiert auf Vorabinformationen unserer Partner. Es ist ohne Gewähr und kann sich jederzeit ändern.