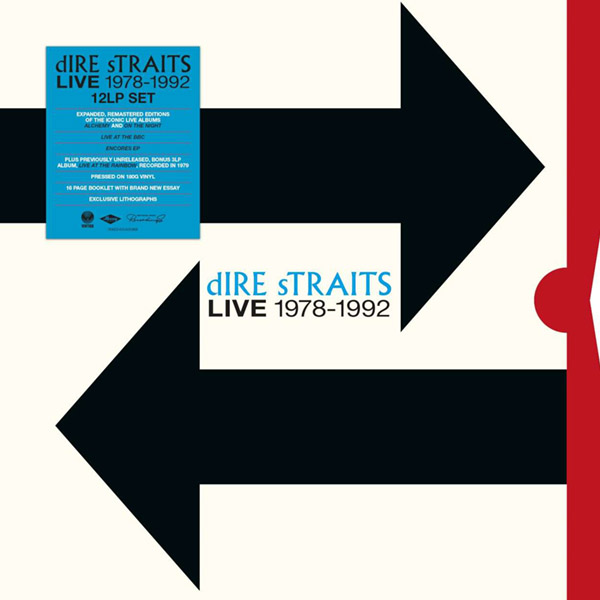 Die LP-Box mit Schwerpunkt auf den Live-Aufnahmen der Dire Straits anlässlich des 40-jährigen Jubiläums ihrer Show in Hammersmith im Jahr 1983, die auf dem Live-Album »Alchemy« verewigt wurde. Dies ist eine Nachfolgeveröffentlichung des 2013 erschienenen Vinyl-Boxsets »The Studio Albums 1978 – 1991«, mit einer ähnlichen Aufmachung.
Die Box enthält:
Neu gemasterte Versionen von »Alchemy« und »On The Night«, die beide derzeit nicht auf Vinyl erhältlich sind (»Alchemy« wurde zuletzt Mitte der 80er Jahre gepresst, »On The Night« wurde zuletzt 1993 für die ursprüngliche Veröffentlichung gepresst).
Eine erweiterte Version von »Alchemy« mit der bestehenden digitalen / CD-Trackliste, die »Love Over Gold« und die erweiterten Versionen von »Telegraph Road«, »Solid Rock« und »Going Home« enthält. Hinzu kommen der Auftritt von »Portobello Belle« in voller Länge (eine Bearbeitung davon wurde 1998 auf der »Money For Nothing«-Compilation veröffentlicht) sowie die unveröffentlichten Songs des Auftritts – »Industrial Disease« und »Twisting By The Pool« (3LP)
Eine erweiterte Version von »On The Night« mit Titeln, die während der Tournee gespielt wurden und nie veröffentlicht wurden. Sie stammen von Mehrspuraufnahmen der Shows in Nimes, Rotterdam und Paris: »Tunnel Of Love«, »Telegraph Road«, »Sultans Of Swing«, »Two Young Lovers«, »When it Comes To You«, »I Think I Love You Too Much«. (4LP)
Die EP »Encores« (remastered für Black Friday 2021) (12» EP)
Die lizenzierte 1995er Sammlung ›Live At The BBC‹ (1LP)
Die unveröffentlichte Dire Straits Live Show aus dem Rainbow Theatre, 1979 – gemischt von Guy Fletcher und mit Gastauftritten von Phil Lynott und Tony de Meur auf den letzten vier Tracks des Sets (3LP)
Zusätzlich ist ein brandneues Booklet mit einem neuen Essay des Journalisten Paul Sexton – »Making Milestones: Die bedeutenden Straßenjahre der Dire Straits'« enthalten.
Künstler: Dire Straits
Titel: Live 1978-1992
Label: Mercury
Erscheinungsdatum: 03.11.2023
Auflage: n/a
! Bitte immer die Beschreibung (Variante/Ausführung) auf den Verkaufsplattformen beachten !
Das Datum basiert auf Vorabinformationen unserer Partner. Es ist ohne Gewähr und kann sich jederzeit ändern.