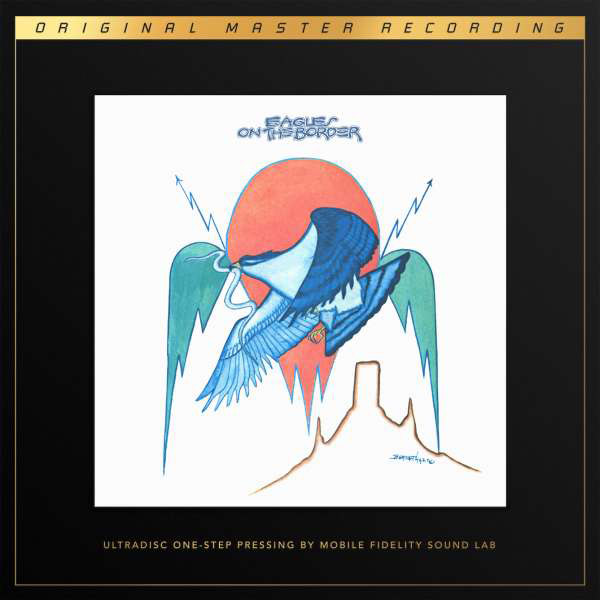 1974 veröffentlichten die Eagles ihr drittes Studioalbum, eine LP, die ihnen ihre erste – aber sicher nicht ihre letzte – Hit-Single einbrachte.
Produziert von Glynn Johns ("You Never Cry Like a Lover" und "Best of My Love") und Bill Szymczyk (alles andere) während der Sessions in den Record Plant Studios in Los Angeles und den Olympic Studios in London, war ON THE BORDER das erste Eagles-Album mit dem Gitarristen Don Felder in der Besetzung, aber es hätte auch ein ganz anderes Album werden können, wenn die Jungs in der Band nicht müde geworden wären von Johns' Bemühungen, den Country in ihrem Rock zu spielen.
Das Argument von Johns lautete: "The Who ist eine Rock'n'Roll-Band, und ihr seid das nicht", und ihr könnt euch vorstellen, wie gut das ankam. Nachdem sie sechs Wochen lang mit Johns in London gearbeitet hatten, kehrten die Eagles nach L.A. zurück, wo sie sich mit Szymczyk zusammentaten, und während dieser Sessions wurde Felder in die Band aufgenommen. Zugegeben, er kam erst ziemlich spät dazu, so dass er nur auf zwei Stücken zu hören ist – "Good Day in Hell" und "Already Gone" -, aber es reichte aus, um sich einen Namen zu machen und offiziell in die Band aufgenommen zu werden.
Ironischerweise wurde der erwähnte Nummer-1-Hit fast nie als Single veröffentlicht: Der fragliche Song war, wie Sie vielleicht schon vermutet haben, "Best of My Love", und da es sich um eine Glynn-Johns-Produktion handelte, zögerte man, die Country-inspirierte Seite ihres Sounds zu betonen. Glücklicherweise setzten sich die anderen Meinungen durch, und der Song stieg an die Spitze der Charts.
Schon der Titel »On the Border« lässt ahnen, dass die Eagles mit diesem Album einen musikalischen Grenzübertritt wagen.
Die Band schlägt eine härtere Gangart an, die aus ihrem eher entspannten Territorium herausführt und die US-Amerikaner als Rockband etabliert. Glenn Frey, Don Henley, Neumitglied Don Felder und Co. verkünden ihre Absichten gleich im trotzigen Eröffnungshit »Already Gone« und blicken nicht mehr zurück. »On the Border« ist das von Anfang bis Ende wohl beständigste und ausgewogenste Werk der Eagles.
Genießen Sie goldene Harmonien, einprägsame Stimmen und das kohärente Zusammenspiel.
Künstler: Eagles
Titel: On The Border
Label: MFSL
Erscheinungsdatum: 15.09.2022
Auflage: 10.000
! Bitte immer die Beschreibung (Variante/Ausführung) auf den Verkaufsplattformen beachten !