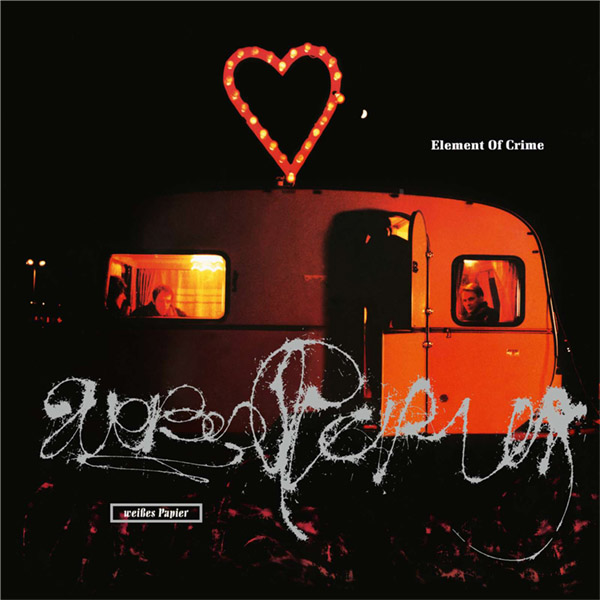 "Element Of Crime machen auf "Weißes Papier" etwas ganz Unverschämtes: Sie kreieren eine deutsche Popmusik, die sich nicht für ihre folkloristischen Aspekte geniert, eine Musik, die mit Akkordeon, Trompete und Geigen flirtet, eine Musik, die in Walzer-Rhythmen schwelgt, als wäre es das Normalste von der Welt für eine Band aus der Kreuzberger Punkszene….
Was "Weißes Papier" zu einem wahren Wunder macht, sind natürlich Sven Regeners Texte. Jahre, bevor der "Herr Lehmann" Hinz und Kunz mit der Nase auf das sprachliche Genie des Element-Of-Crime-Sängers stößt, gibt es hier ein fintenreiches Feuerwerk lyrischer Einfälle. Sven Regener findet im ganz Banalen wunderbar schiefe Metaphern, er entdeckt eine poetische Komik im ganz Alltäglichen – und er macht aus den Nöten der deutschen Sprache eine Tugend: Was anderswo sperrig, hart, abgehackt klingt, wird bei ihm melodiös, leichtfüßig und heiter." (br.de)


Rezensionen

Audio 2/93: "Schonungslos beschwört Regener mit rauchig-schnodriger Stimme seine Song-Geister. Die luftig-spröden Arrangements mit Akkordeon, Streichern, E-Gitarre und Schlagzeug potenzieren die Mischung – Flut für Herz und Hirn."

Es gibt immer mal wieder Überraschungen und dies ist eine besonders schöne: Universal Music hat die legendäre 1993er Langspielplatte »Weißes Papier« von Element of Crime neu auf Vinyl aufgelegt, auf weißem Vinyl, sehr sinnig und sehr stimmig und für Plattensammler und -liebhaber ein Muss.
Künstler: Element Of Crime
Titel: Weißes Papier
Label: Vertigo Berlin
Erscheinungsdatum: 25.08.2023
Auflage: n/a
! Bitte immer die Beschreibung (Variante/Ausführung) auf den Verkaufsplattformen beachten !
Das Datum basiert auf Vorabinformationen unserer Partner. Es ist ohne Gewähr und kann sich jederzeit ändern.