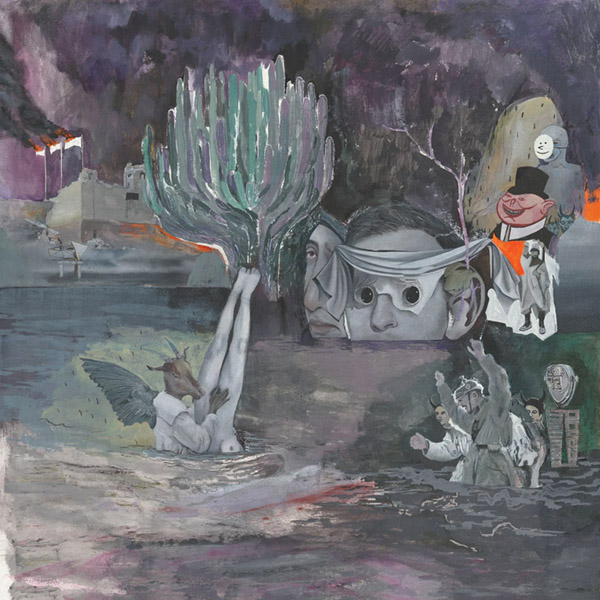 Rückblick 2023: Vor einem Jahrzehnt saßen Simon Neil und Mike Vennart auf der Rückbank des Tourbusses von Biffy Clyro und tauschten die extremste, konfrontativste oder einfach nur verdrehte Musik aus, die sie finden konnten. Simon hatte schon immer den Namen Empire State Bastard im Hinterkopf, falls er jemals eine abscheuliche Heavy-Band gründen würde, und überließ Mike die Herausforderung, Musik zu schreiben, die diesem Namen gerecht werden könnte. Jetzt ist das Ergebnis da: Empire State Bastard veröffentlichen ihr Debütalbum »Rivers of Heresy« auf Roadrunner Records.
Die Songs des Albums, das sich quer durch die Alt-Metal-Landschaft zieht, schlagen ein wie eine Vollgas-Kollaboration zwischen Siege und Slayer (»Stutter«, »Palm of Hands«), spielen zwischen Mathe-Chaos und Grindcore-Grausamkeit (»Blusher«, »Sold!«) oder taumeln mit Stoner-Rock-Bedrohung in Zeitlupe (»Sons And Daughters«).
Dieser Sound verlangt nach einem vorbildlichen Schlagzeuger, und so holten sie sich den Besten: Dave Lombardo von Slayer, Testament, Dead Cross und anderen. Seine Darbietungen sind wie ein außer Kontrolle geratener Zug, der gerade noch auf den Gleisen bleibt. Der treibende Rausch der manischen Fills und leichtfüßigen Double-Kicks pulverisiert und groovt gleichermaßen.
Künstler: Empire State Bastard
Titel: Rivers Of Heresy
Label: Roadrunner
Erscheinungsdatum: 01.09.2023
Auflage: n/a
! Bitte immer die Beschreibung (Variante/Ausführung) auf den Verkaufsplattformen beachten !
Das Datum basiert auf Vorabinformationen unserer Partner. Es ist ohne Gewähr und kann sich jederzeit ändern.