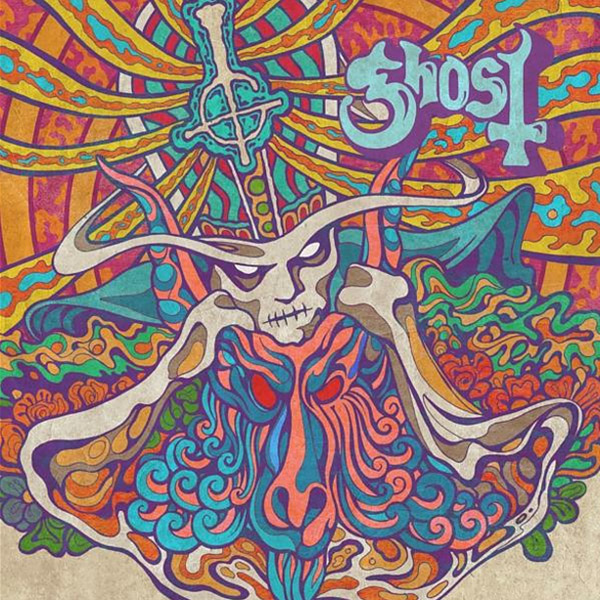 Manche Dinge werden mit dem Alter besser. Im Sommer 1969 spielte eine aufstrebende Band namens Ghost, angeführt von Papa Nihil, ihr erstes Konzert im Whiskey A Go-Go auf dem Sunset Strip in Hollywood. Mit dem Konzert wurde die erste Veröffentlichung von Ghost auf Galaxy Recordings gefeiert, "Seven Inches of Satanic Panic", die 7-Inch-Doppelseiten-Single mit "Kiss The Go Goat" und "Mary on A Cross".
Zur Feier des 50-jährigen Jubiläums im Jahr 2019 bestellte Ghost eine Vinyl-Nachpressung dieser Rarität, die sofort ausverkauft war. 3 Jahre später, 2022, haben Ghost einen viralen Social-Media-Moment, ein echtes Streaming-Phänomen und eine zertifizierte Gold-Single mit "Mary On A Cross". Eine Single, die eine ganz neue Generation von Fans erobert hat und den kulturellen Zeitgeist für Rockmusik im letzten Jahr bestimmt hat. Ein Moment, der nach einer neuen 7″-Vinylpressung ruft, diesmal auf speziellem, noch nie zuvor veröffentlichtem lila Vinyl.
Jetzt gibt es aufgrund hoher Nachfragen eine Nachpressung.
Künstler: Ghost
Titel: Seven Inches Of Satanic Panic
Label: Concord
Erscheinungsdatum: 03.03.2023
Auflage: n/a
! Bitte immer die Beschreibung (Variante/Ausführung) auf den Verkaufsplattformen beachten !
Das Datum basiert auf Vorabinformationen unserer Partner. Es ist ohne Gewähr und kann sich jederzeit ändern.