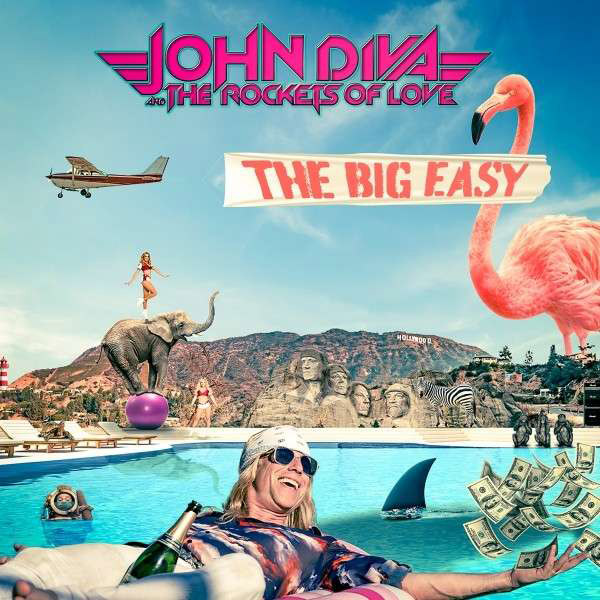 Ein echter Leckerbissen für Fans von: Steel Panther, Mötley Crüe, Poison, The New Roses, Kissin' Dynamite, H.E.A.T.
Am 17. März 2023 veröffentlichen die 80er-Hair-Metaller John Diva & The Rockets Of Love ihr drittes Album »The Big Easy«. Während die Band auf ihrer zweiten Platte »American Amadeus« noch die Grenzen des Glam Metal auslotete, kehren die fünf Musiker auf Album Nummer drei zu dem zurück, was sie am besten können: gradlinigem, erfrischendem Rock mit markanten Riffs, harten Beats, vielschichtigen Texten und einem Frontmann in Bestform. Keine Schnörkel, kein Bullshit, sondern Stadionhymnen für die ganz große Bühne. Wir haben darauf gewartet und endlich ist es so weit: John Diva is back! »Remember 80-something – we never seemed to miss a thing«.
Schon die ersten Zeilen des neuen John-Diva-Songs »Back In The Days« vermitteln, für welches Gefühl die Band steht. Spandex-Hosen, jugendlicher Leichtsinn, Partystimmung und volle Batterien im Walkman: John Diva & The Rockets Of Love holen die sorglosen Momente der 80er in die Gegenwart und lassen sie klingen wie den neuen heißen Scheiß. Und können wir nicht alle ein bisschen Sorglosigkeit gebrauchen? John Diva & The Rockets Of Love stehen für fette Partys, leidenschaftliche Bühnenshows, aber auch für liberale Botschaften in ihren Lyrics. Bullshit? Fehlanzeige. So erteilen die fünf Musiker dem Genre-üblichen Sexismus in ihren Texten eine klare Abfuhr, zum Beispiel in Songs wie »Boys Don't Play With Dolls«.
»Bei uns ist jeder willkommen und wird wertgeschätzt«, stellt Frontmann John Diva klar. Gut so. Denn wir können wohl alle ein bisschen Sorglosigkeit gebrauchen.