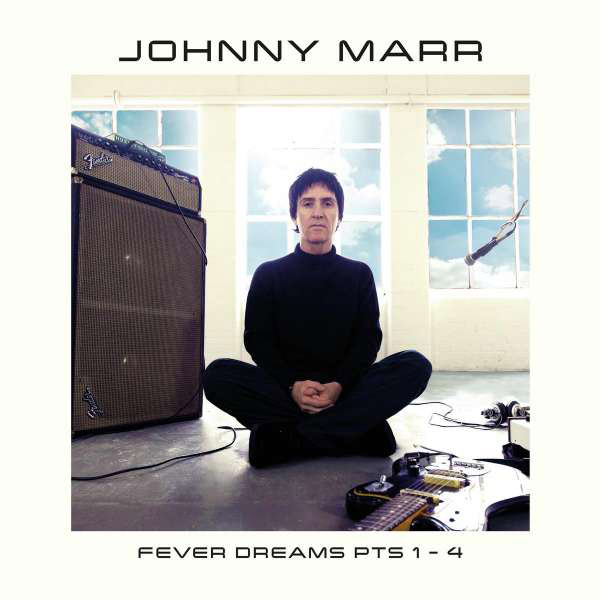 Vier Kapitel und ein breites Sound-Vokabular
In den 1980er-Jahren wurde Johnny Marr als Gitarrist und, neben Morrissey, als Songwriter der Indierock-Ikonen The Smiths bekannt. Die Band löste sich bereits 1987 auf, sein erstes Soloalbum veröffentlichte Marr aber erst 2013.

2022 stellt er nun aber bereits sein viertes Werk in Eigenregie vor: »Fever Dreams Pt. 1–4« heißt der Nachfolger seines Top-10-Erfolges »Call The Comet« aus dem Jahr 2018. Und der Titel verrät bereits etwas über die Platte, nämlich, dass sie in vier Teile unterteilt ist.

Zusammen ergeben sie ein facettenreiches Rockalbum. Marr sagte dazu in einem Statement: »Es gibt eine Reihe von Einflüssen und einen sehr breit gefächerten Sound, den ich entwickelt habe – wirklich seit dem Ausstieg aus The Smiths bis jetzt, und ich höre es in dieser Platte. Es gibt so viele musikalische Stränge darin. Wir haben das nicht bewusst gemacht, aber ich denke, ich habe ein Sound-Vokabular entwickelt. Und ich bin sehr zufrieden, dass es mir gelungen ist, es nutzbar zu machen.«

Wie das klingt, verriet der Musiker bereits mit der ersten Single »Spirit Power And Soul«, dem ersten Song des ersten Kapitels von »Fever Dreams Pt. 1–4«. Drei weitere Stücke namens »Receiver«, »All These Days« und »Ariel« gehören ebenfalls zu Kapitel eins.

Insgesamt warten 16 Songs auf der Platte, die er im vergangenen Jahr geschrieben und im Studio Crazy Face Factory in Manchester aufgenommen hat. Seine langjährige Band, bestehend aus Bassist Iwan Gronow, Schlagzeuger Jack Mitchell und Co-Produzent Doviak, war ebenfalls mit von der Partie. In drei Songs ist zudem Primal-Scream-Bassistin Simone Butler zu hören. Als Backgroundsängerin unterstützte die US-amerikanische Singer-Songwriterin Meredith Sheldon.

»Fever Dreams Pt. 1–4« kommt am 25. Februar 2022 als CD sowie als Limited-Signed-Edition-CD. Schallplattenfans dürfen sich über die Doppel-LP und die Limited-Indie-Retail-Exclusive-Doppel-LP auf türkisem Vinyl freuen. Alle Varianten können jetzt schon vorbestellt werden.
Künstler: Johnny Marr
Titel: Fever Dreams Pt. 1 – 4
Label: BMG Rights
Erscheinungsdatum: 25.02.2022
Auflage: n/a
! Bitte immer die Beschreibung (Variante/Ausführung) auf den Verkaufsplattformen beachten !