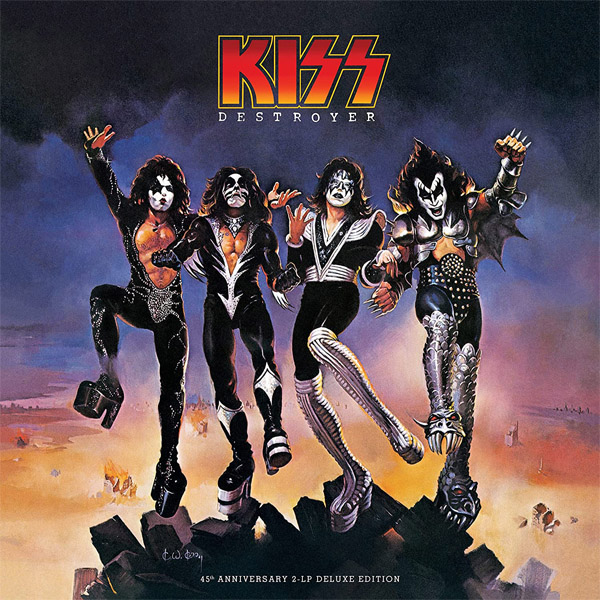 45 Jahre »Destroyer«
1976 ließen Kiss mit »Destroyer« eine Hard-Rock-Bombe auf die Welt fallen, ein Album, das ursprünglich auf Widerstand der Fans stieß, weil die Band einen neuen Sound erforschte. Heute ist es das meistverkaufte Album der Rocklegenden.

Zum 45-jährigen Jubiläum wird »Destroyer« 2021 neu aufgelegt, und zwar komplett remastert und mit ein paar bislang unveröffentlichten Bonustracks.

»Destroyer« ist das vierte Studioalbum von Kiss. Es wurde zwischen 1975 und 1976 in den Electric Lady und Record Plant Studios in New York City zusammen mit Produzent Bob Ezrin aufgenommen. Es erschien ursprünglich am 15. März 1976, ein Jahr nach »Dressed To Kill«, und war eine musikalische Abkehr vom rohen Sound der drei Vorgänger hin zum Heavy Metal. Explodierend mit Konzertklassikern und Kiss-Army-Favoriten wie »Detroit Rock City«, »Shout It Out Loud« und »God Of Thunder« stammte der neue Sound des Albums von der sanfteren Seite und Songs wie »Do You Love Me?« und Stücken reich an Orchesterarrangements wie »Great Expectations« und ihrer Überraschungshitsingle »Beth«. Das Album erreichte Platz elf in den US Billboard Charts und wurde in den USA 1976 mit Platin ausgezeichnet.

Die 45th Anniversary Edition von »Destroyer« gibt es als Doppel-CD und als Doppel-LP. Beide enthalten das Album, das für die Wiederveröffentlichung in den Abbey Road Mastering Studios komplett neu gemastert wurde und eine Bonus CD bzw. -LP mit 16 bzw. zwölf Raritäten und unveröffentlichten Tracks aus den Privatarchiven von Paul Stanley und Gene Simmons. Mit dabei sind Liveaufnahmen, Demos, Early Versions, Akustik-Songs und mehr.