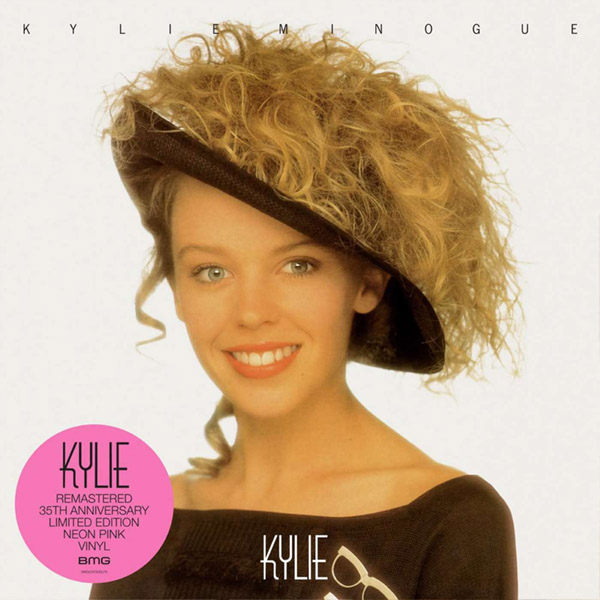 Kylie Minogues klassisches Pop-Debüt Kylie wurde ursprünglich am 4. Juli 1988 veröffentlicht und ist das erste von vier Alben, die sie mit der britischen Produktionsfirma Stock Aitken & Waterman aufgenommen hat. Das Album wurde auf den Labels PWL und Mushroom veröffentlicht und brachte sechs Singles hervor, darunter »Got To Be Certain«, »The Loco-Motion« und den Welthit »I Should Be So Lucky«. Das Album war ein großer kommerzieller Erfolg, hielt sich sechs Wochen lang auf Platz 1 in Großbritannien und wurde zum fünftmeistverkauften Album des Jahrzehnts. Weltweit wurde es über fünf Millionen Mal verkauft.
Diese neu gemasterte LP-Wiederveröffentlichung feiert das 35-jährige Jubiläum des Debütalbums und ist auf neonpinkem Vinyl in einer Klapphülle gepresst. In ihrer glanzvollen Karriere hat Kylie weltweit über 80 Millionen Tonträger verkauft, fünf Milliarden Mal gestreamt und acht Nummer-1-Alben in Großbritannien veröffentlicht. Zu ihren zahlreichen Auszeichnungen gehören drei BRIT Awards, zwei MTV Awards und ein Grammy. Sie ist die einzige Künstlerin, die in fünf aufeinanderfolgenden Jahrzehnten ein Nummer-1-Album im Vereinigten Königreich veröffentlicht hat, und ihr Glastonbury-Auftritt 2019 war der meistgesehene TV-Moment in der Geschichte des Festivals. In vielerlei Hinsicht steht sie allein in der Pop-Arena – ein Superstar, dessen ständige Neuerfindungen und Erkundungen sie fest in der Gegenwart verwurzeln, während sie gleichzeitig einen Großteil unserer kollektiven Vergangenheit definiert und feiert.
Künstler: Kylie Minogue
Titel: Kylie
Label: BMG Rights
Erscheinungsdatum: 24.11.2023
Auflage: n/a
! Bitte immer die Beschreibung (Variante/Ausführung) auf den Verkaufsplattformen beachten !
Das Datum basiert auf Vorabinformationen unserer Partner. Es ist ohne Gewähr und kann sich jederzeit ändern.