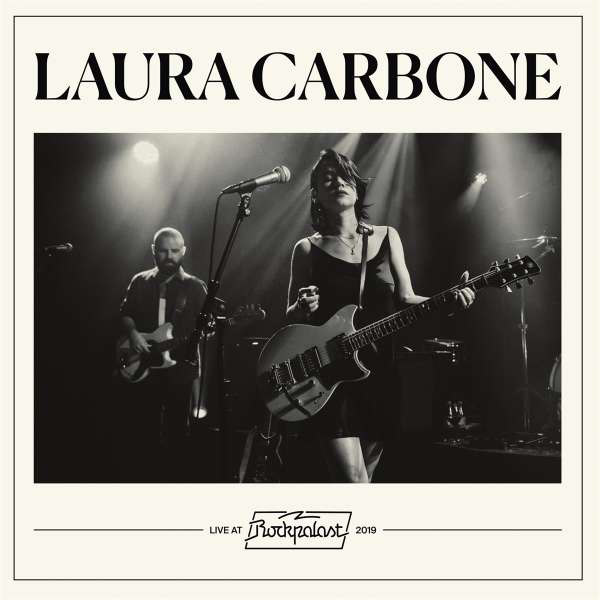 Ein Polaroid für eine polarisierte Welt, für etwas, das größer ist als jeder Einzelne von uns. Zu Beginn des Herbstes 2019, zurück in Berlin nach einer 6.000 Meilen langen Nordamerika-Tournee und kaum über den Jetlag hinweg, wurden Laura Carbone und ihre Boys-in-Black eingeladen, im Oktober ein Simulcast-Live-Konzert für die renommierte deutsche TV-Serie "Rockpalast" zu spielen
Diese kultige Institution wurde 1974 gegründet und hat bis heute Hunderte von Rock-, Heavy-Metal- und Jazzbands auf ihrer Bühne gesehen, darunter Siouxsie & The Banshees, Radiohead, John Cale, Sonic Youth, Talking Heads, Echo & The Bunnymen, Patti Smith, Van Morrison, Smashing Pumpkins, David Bowie – es war die Art von Show, für die Laura als Teenager in einer Kleinstadt im Südwesten Deutschlands samstagabends lange aufblieb
Am 12. Oktober 2019 standen Laura und die Band für eine bundesweite Live-Übertragung auf der Rockpalast-Bühne in der Harmonie in Bonn. Im Januar sollte die Band mit den Aufnahmen zum dritten Studioalbum von Carbone beginnen, und Anfang März läuft alles nach Plan. Die neuen Songs kommen zusammen, das Studio ist für Mai gebucht und Laura und die Band freuen sich darauf, im Herbst in die USA zurückzukehren. Dann, am Freitagabend, den 13. März, wurde Berlin abgeriegelt. Und was nun?
Nach dem ersten Schock begannen sie zu überlegen, was sie tun könnten. Wir schreiben den April 2020. Da sie nun wissen, dass das neue Studioalbum nicht mehr in diesem Jahr aufgenommen werden kann, kam Laura und der Band eine Idee: "Was wäre, wenn Rockpalast uns erlauben würde, diese Show als Live-Album zu veröffentlichen? Das werden sie natürlich nicht, aber was wäre, wenn sie es täten? Und was wäre, wenn wir es dieses Jahr veröffentlichen könnten, genau zum einjährigen Jubiläum, wenn wir alle das Live-Erlebnis schmerzlich vermissen?"
Ja, was wäre wenn? 10 Songs, die aus Lauras ersten beiden Alben "Sirens" und "Empty Sea" stammen Abgemischt in Los Angeles von Scott Von Ryper von The Jesus & Mary Chain / The Black Ryder und gemastert von Philipp Welsing bei Original Mastering in Hamburg, ohne jegliche Overdubs. Für Fans von Anna Calvi, PJ Harvey, Chelsea Wolfe.
Recycled Vinyl. Jede Vinyl in einer einzigartigen Farbkombi.