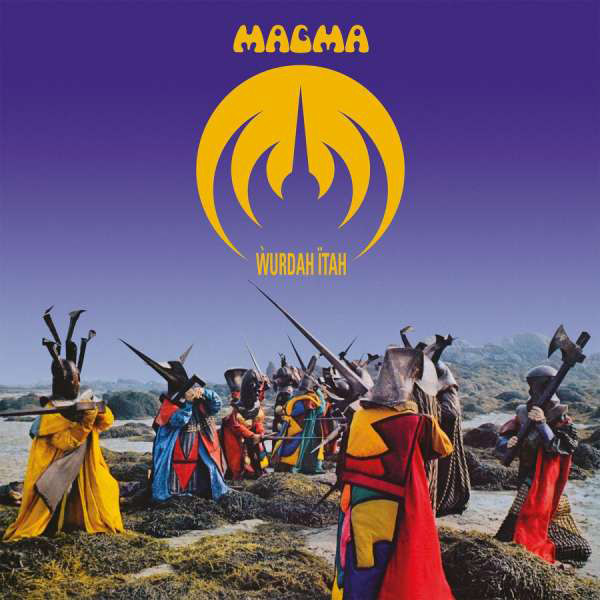 »Wurdah ïtah« wurde von einem Kern aus vier Magma-Mitgliedern eingespielt und unter dem Namen von Christian Vander als Filmmusik zu Yvan Lagranges Avantgarde-Film »Tristan er Iseult« von 1972 veröffentlicht. In der Magma-Zeitrechnung ist es der zweite Teil der »Theusz-Hamtaahk-Trilogie«. Teil I , »Theusz Hamtaahk« (»Zeit des Hasses«), war, obwohl live regelmäßig gespielt, erst in der Live-Kompilation »Retrospektïw Parts I & I I« von 1981 enthalten. Teil 3, »Mëkanïk Dëstruktïw Kömmandöh«, erschien erstmals 1973.
Product Information
"The soundtrack for Yvan LAGRANGE's film TRISTAN Y ISEULT, WURDAH ITAH was recorded in April 1974, just one month before the sessions which produced KOHNTARKOSZ. It forms the second movement of THEUSZ HAMTAAHK, an epic work in three movements of which MEKANIK DESTRUKTIW KOMMANDOH, recorded a year earlier by MAGMA, forms the final part. Performed by the core players in MAGMA at that time – Christian VANDER (piano, drums, vocals), Jannick TOP (bass), Klaus BLASQUIZ (vocals, percussion) and Stella VANDER (vocals) – WURDAH ITAH is music stripped down to its bare essence. Although a total contrast to the splendour and orchestral power of M.D.K., it nevertheless has just as great rhythmic power and surprising vocal lyricism, unquestionably marked by the claws of MAGMA."
Es war 1974, als das vierte Studioalbum "Ẁurdah Ïtah" von Magma erschien. Ursprünglich wurde das Album unter dem Namen "Tristan Et Iseult" als Solo-Studio-Film-Soundtrack von Gründungsmitglied Christian Vander veröffentlicht. Er nahm die Musik für Yvan Lagranges Avantgarde-Film "Tristan Et Iseult" von 1872 auf. Die Aufnahmen fanden nur einen Monat vor den Sessions statt, bei denen "Köhntarkösz" entstand. An diesen Aufnahmen für "Ẁurdah Ïtah" war nur ein Kernquartett von Magma-Mitgliedern beteiligt, darunter Christian Vander, Jannick Top, Klaus Blasquiz und Stella Vander, die nur Schlagzeug, Bass, Klavier und Gesang beisteuerte. Fünfzehn Jahre später, 1989, wurde das Album mit dem unverwechselbaren Magma-Logo wiederveröffentlicht.
"Ẁurdah Ïtah" ist in einer limitierten Auflage von 2000 einzeln nummerierten Exemplaren auf Purple Vinyl in einem Gatefold Cover erhältlich.