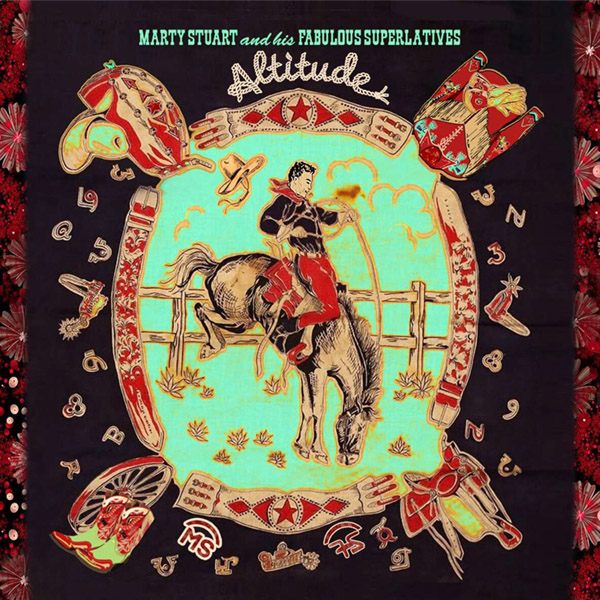 Der 5-fache GRAMMY-Gewinner und Country Music Hall of Famer Marty Stuart kehrt mit seinem ersten neuen Album seit mehr als 6 Jahren zurück: Altitude. Aufgenommen in Nashville mit seiner langjährigen Band The Fabulous Superlatives, erkundet die Sammlung eine kosmische Country-Landschaft, bevölkert von Träumern und Drifters, Honky-Tonk-Helden und einsamen Liebenden. Das Album wurde hauptsächlich unterwegs geschrieben und ist zu einem großen Teil von Stuarts 2018er Tour mit den Byrds-Mitbegründern Roger McGuinn und Chris Hillman inspiriert.
"Ich habe schon immer Songs geliebt, die sich wie alte Freunde anfühlen, aber trotzdem neu und frisch klingen", sagt Stuart über Altitude. "Das Schöne an der Country-Musik ist, dass die Blaupause, die Jimmie Rodgers festgelegt hat – Glücksspiel, Sünde, Erlösung, Himmel, Hölle – heute noch genauso aktuell ist wie damals. Es geht um den Zustand des Menschen, und wenn man ehrlich damit umgeht und eine echte Band um sich hat, kann man etwas schaffen, das einzigartig ist und die Zeit überdauert."
Künstler: Marty Stuart
Titel: Altitude
Label: Snakefarm
Erscheinungsdatum: 19.05.2023
Auflage: n/a
! Bitte immer die Beschreibung (Variante/Ausführung) auf den Verkaufsplattformen beachten !
Das Datum basiert auf Vorabinformationen unserer Partner. Es ist ohne Gewähr und kann sich jederzeit ändern.