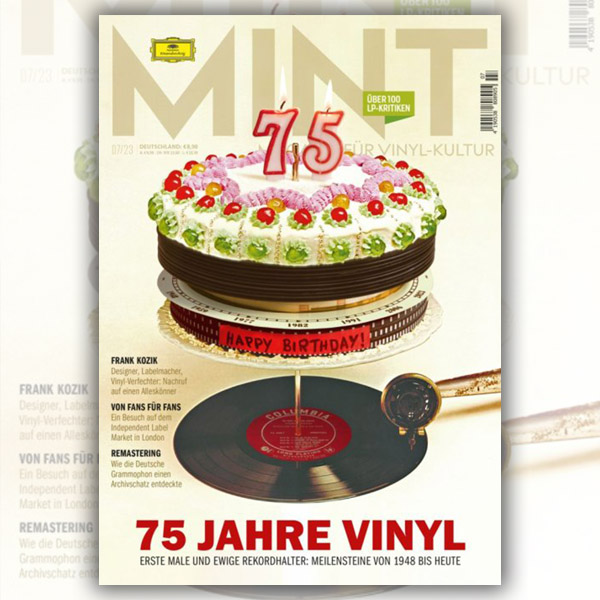 MINT ist das Magazin für Vinyl-Kultur. Seit 2015 ist es das Sprachrohr der Vinyl-Community. Achtmal pro Jahr berichtet MINT in großen Reportagen und Hintergrundberichten über die Welt des Vinyls. In aufwändig recherchierten Titelgeschichten beleuchten wir Themen, die die Vinyl-Community bewegen, etwa Counterfeits und Bootlegs, die Zukunft der Schallplatte oder Sammelsucht. In ausführlichen Plattenbesprechungen widmen wir uns gleichberechtigt Musik und ihrer Präsentation auf Vinyl. Regelmäßig berichten wir über die neusten Entwicklungen auf dem HiFi-Markt und stellen in verständlichen Tests neue Geräte vor. MINT wendet sich vor allem an Leute, die Musik lieben und auf LP hören. Erhältlich ist MINT im Zeitschriftenhandel und in mehr als 200 Plattenläden, bei HiFi-Händlern und Mailordern. Die Auflage von MINT liegt derzeit bei 45.000 Exemplaren (Stand: Januar 2018).
Themen und Features der MINT No. 61


Titelstory: 75 Jahre Vinyl
1948 feiert die Vinyl-Platte Premiere und setzt schon bald zu einem beispiellosen Siegeszug an. Auf 38 Seiten erzählen wir diese Geschichte anhand wegweisender Platten und technischer Pioniertaten aus 75 Jahren und einer besonderen Episode unserer Reihe Master Class: über die ersten zwei Vinyl-Veröffentlichungen, die die Welt zu sehen und zu hören bekam.

London Calling
Wir besuchen den Independent Label Market in King's Cross, auf dem unabhängige Labels ihre Veröffentlichungen präsentieren.

The Original Source
Die Deutsche Grammophon startet eine audiophile LP-Reihe. Wir reden mit dem zuständigen Tonmeister Rainer Maillard von den Emil Berliner Studios.

Frank Kozik
Ein Nachruf auf den Plakat- und Cover-Designer, der auch als Labelmacher hinter Man's Ruin Rockgeschichte schrieb.

Enthüllt: Ian Dury
Die Hintergründe und Geheimnisse des Covers von Ian Durys New Boots And Panties!!, fotografiert von Chris Gabrin.

Soundtrack Of My Life
Der Bochumer Schriftsteller und Kabarettist Frank Goosen über eine ganz besondere Picture-Disc seiner Beatles.

Weitere Themen der Ausgabe
Praxistests zu Plattenspieler, Vollverstärker und Tonabnehmer, 125 LP-Besprechungen auf 52 Seiten, die Rubrik "33 1 / 3 Cover", News-Features, Dr. MINT, Vinyl-Vorschau, das Sleeveface des Monats und vieles mehr.
! Bitte immer die Beschreibung (Variante/Ausführung) auf den Verkaufsplattformen beachten !