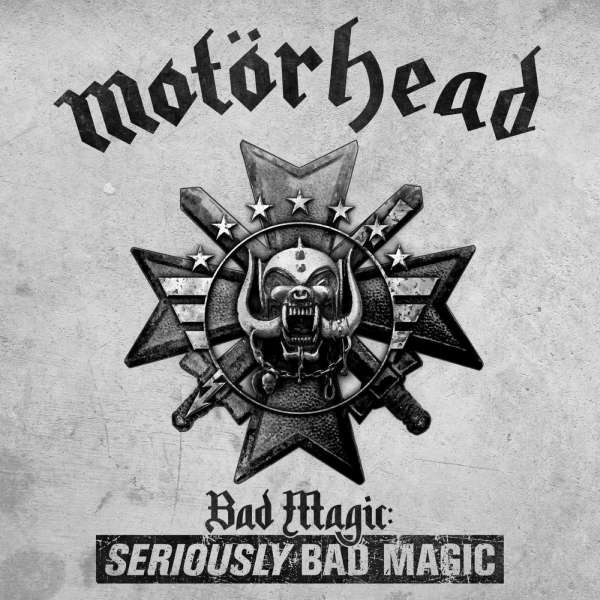 Motörhead, die Ikonen, die »Godfathers of Heavy Metal«, veröffentlichen 2023 ihr 23. (und allerletztes Studioalbum) Bad Magic von 2015 noch einmal.
»Bad Magic: Seriously Bad Magic« beinhaltet frisches Bonusmaterial und zwei bisher unveröffentlichte Tracks: »Bullet in Your Brain« und »Greedy Bastards«, sowie eine glanzvolle Live Performance von der Bad Magic Tour beim gigantischen Mt Fuji Festival in Japan 2015.
Dazu bekommen die Fans bekommen ein Audio Interview »War, Love, Death and Injustice« natürlich mit Lemmy, geführt vom Motörhead -Experten, Robert Kiewik, auf der Tour 2015 und wer vielleicht mit Lemmy in Verbindung treten will, kann dies mit dem »Murder One Ouija Board«, komplettiert mit einer »Ace of Spades« Planchette um die Richtung der »Konversation« anzuzeigen. Dies wird in einem exklusiven Boxset angeboten.
Ein neues Video für »Bullet In Your Brain« und unveröffentlichtes Footage aus dem Studio während der Bad Magic Aufnahmen. Eine Offenbarung für alle Fans, die sich nach neuen Motörhead Material gesehnt haben.
Als Bad Magic 2015 veröffentlicht wurde, tat es einen gewaltigen Schlag und alle, die meinten Motörhead wären zahmer geworden, wurden eines Besseren belehrt. Das Album erreichte in Deutschland auf Anhieb die Top 1 Chart Position mit Songs, wie dem Brechkegel »Thunder & Lightning« oder »Teach Them How To Bleed«.
Das Album war tough, clean, mean und eines der kompromisslosesten Werke von Motörhead ever! Cameron Webb hatte seinen Anteil daran; er überzeugte die Band, das Album in den NRG North Hollywood, Maple Studios und Grandmaster in Kalifornien live aufzunehmen– zum allerersten Mal in der Ära Kilmister/Campbell/Dee. Von der gewaltigen Punk Energie bei »Electricity« bis hin zu Queens Brian May, der einen sprühenden Gastauftritt bei »The Devil« hat, dazu gewaltige Aggression, Attitüde und exzellentes Songwriting. Phil Campbell hat nicht nur seine besten Gitarrenstücke aufgenommen, er hat die besten Solos in einer Dekade abgeliefert und Mikkey Dees Schlagzeugspiel gab dem Motörhead Sound eine neue Resonanz. Dazu Lemmys raue lyrische Lebensreflektion wie bei »Till The End« und natürlich das unglaubliche Rolling Stones Cover »Sympathy For The Devil«.
Eine der versteckten Juwelen des Albums auf »Bad Magic: Seriously Bad Magic«, ist Motörheads berühmteste, international gefeierte Version des David Bowies Klassiker, »Heroes«. Ursprünglich sollte der Song auf »Bad Magic« (2015) erscheinen, wurde jedoch in der letzte Minute wieder heruntergenommen. Jetzt aber fand »Heroes« seinen Platz auf »Seriously Bad Magic«.