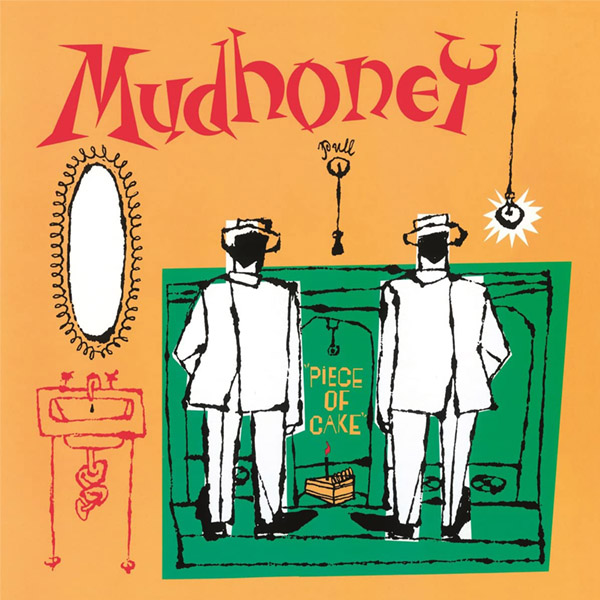 1992 ging der Grunge in den Rock Mainstream über.
MUDHONEY, die im Zweifelsfall immer lieber dagegen sind, schienen sich im Grunge ein wenig zu langweilen. Nebenbei hatte die Band ihre Sporen ausreichend lange in Gebrauch gehabt, um sich jetzt erlauben zu können, Garage Rock und Old School Punk Einflüsse an die Oberfläche ihres Sounds brodeln zu lassen.
Aufgenommen und veröffentlicht 1992, feierten MUDHONEY mit "Piece Of Cake" ihr Debüt beim Major Label. Songs wie "No End In Sight" und "Suck You Dry" zeigen, dass die Band im Herzen immer Punk war und wer auf der Suche nach Härte ist, wird mit "Ritzville" und "I'm Spun" davon überzeugt, dass MUDHONEY auch immer noch die Gitarre auf Drop D stimmen und loslegen kann.
Conrad Uno als Produzent verzichtete auf Schnickschnack und die Ausbrüche von puren Noise und Techno Parodien zwischen den Songs unterstreichen, dass sich MUDHONEY einmal mehr weigern, sich selbst und ihre Karriere ernst zu nehmen.
"Piece Of Cake" ist das dritte Studioalbum der Grunge-Band Mudhoney. Es war ihr Debüt bei einem Major-Label, da es das erste Album war, das bei Reprise Records veröffentlicht wurde. Songs wie "No End In Sight" und "Suck You Dry" machten deutlich, dass die Jungs im Herzen eine Punkband waren. Mehrere Songs des Albums, darunter "Suck You Dry", "Blinding Sun" und "Acetone", sind immer noch fester Bestandteil der Live-Setlist von Mudhoney.
"Piece Of Cake" ist in einer limitierten Auflage von 1500 einzeln nummerierten Exemplaren auf Translucent Green Vinyl erhältlich.