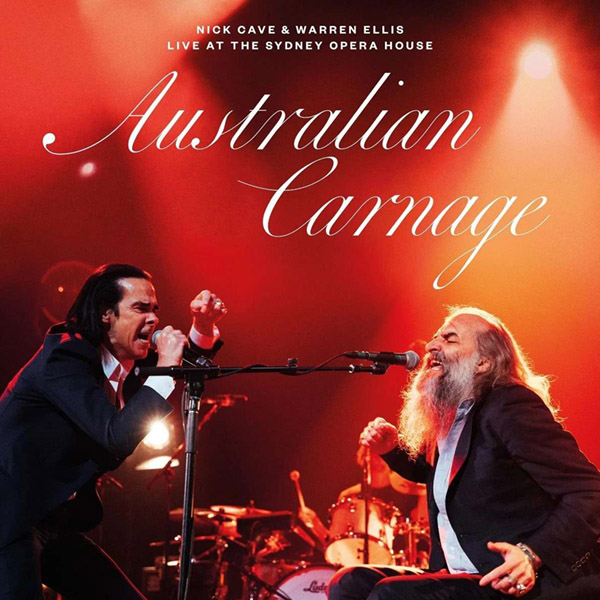 Im Jahr 2022 kehrten Nick Cave und Warren Ellis für eine Reihe von 16 Konzerten in ihr Heimatland Australien zurück. Bei diesen Shows brachten sie ihr vielbeachtetes Album "Carnage" von 2021 an verschiedene Orte und spielten auch Songs aus dem Repertoire von Nick Cave & The Bad Seeds.
Den Höhepunkt dieser Reise bildeten drei bemerkenswerte Auftritte im Sydney Opera House am 16., 17. und 18. Dezember. Diese Auftritte waren von besonderer emotionaler Bedeutung und wurden für ein brillantes neues Live-Album mit dem Titel "Australian Carnage – Live At The Sydney Opera House" aufgenommen.
"Mit Warren nach so langer Abwesenheit durch Australien zu touren, war einer der Höhepunkte der letzten Jahre. Jede Show war bewegend und unvergesslich, von der Intimität der Auftritte in Theatern und Kunstzentren über die ausgedehnten und erhebenden Nächte in Hanging Rock bis hin zu unseren letzten drei Abenden im unnachahmlichen Sydney Opera House. Wir freuen uns, diese Aufnahmen, die im Sydney Opera House entstanden sind, mit Ihnen zu teilen, und hoffen, dass sie auch nur ein Zehntel des kollektiven Hochgefühls einfangen, das wir bei diesen Konzerten empfunden haben. Wir werden sie nie vergessen."
Künstler: Nick Cave und Warren Ellis
Titel: Australian Carnage
Label:  Goliath Records Limited – AWAL
Erscheinungsdatum: 01.12.2023
Auflage: n/a
! Bitte immer die Beschreibung (Variante/Ausführung) auf den Verkaufsplattformen beachten !
Das Datum basiert auf Vorabinformationen unserer Partner. Es ist ohne Gewähr und kann sich jederzeit ändern.