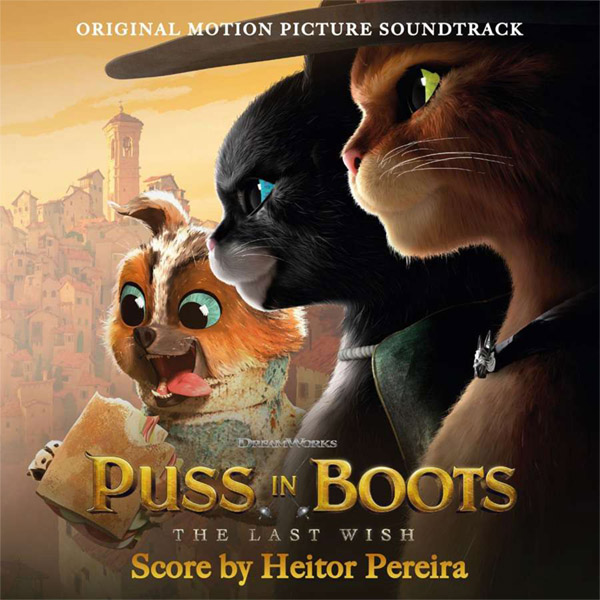 Der DreamWorks Animation-Film "Der gestiefelte Kater" aus dem Jahr 2022: "Der letzte Wunsch" ist die Fortsetzung des Spin-off-Films "Der gestiefelte Kater" (2011) und der sechste Teil der Shrek-Reihe. Unter der Regie von Joel Crawford wurde der Film mit Antonio Banderas, Salma Hayek Pinault, Florence Pugh, Olivia Coleman und John Mulaney besetzt. Er erhielt eine Oscar-Nominierung für den besten animierten Spielfilm. Die Geschichte folgt dem verwegenen gestiefelten Kater, der entdeckt, dass seine Leidenschaft für Gefahren und seine Missachtung der Sicherheit ihren Tribut gefordert haben. Der gestiefelte Kater hat acht seiner neun Leben verbraucht, auch wenn er sich auf dem Weg dorthin verzählt hat. Um diese Leben zurückzubekommen, muss der gestiefelte Kater sein bisher größtes Abenteuer bestehen.
Die Filmmusik wurde von Heitor Pereira komponiert, der vor allem für die Vertonung der "Despicable Me"-Reihe bekannt ist. Für diese Veröffentlichung wählte Pereira seine Lieblingsstücke aus, die in den Film einfließen sollten. Zusammen mit seinem Team wurden diese Stücke so gemastert, dass sie auf Vinyl so gut wie möglich klingen. Sie enthält die zusätzlichen Stücke "Fearless Hero (Hero Version)" mit Antonio Banderas, "Por Qué te Vas" von Gaby Moreno, "This Is the End" von Dan Navarro & "La Vida Es Una" von KAROL G.
"Puss In Boots: The Last Wish" ist in einer limitierten Auflage von 750 einzeln nummerierten Exemplaren auf orangefarbenem, marmoriertem "Puss"-Vinyl erhältlich. Diese Vinyl-Verpackung enthält die Karte zum "Wishing Star" und ein 4-seitiges Booklet mit Linernotes von Regisseur Joel Crawford.
Künstler: OST
Titel: Puss In Boots: Last Wish
Label: At The Movies
Erscheinungsdatum: 18.08.2023
Auflage: 750
! Bitte immer die Beschreibung (Variante/Ausführung) auf den Verkaufsplattformen beachten !
Das Datum basiert auf Vorabinformationen unserer Partner. Es ist ohne Gewähr und kann sich jederzeit ändern.