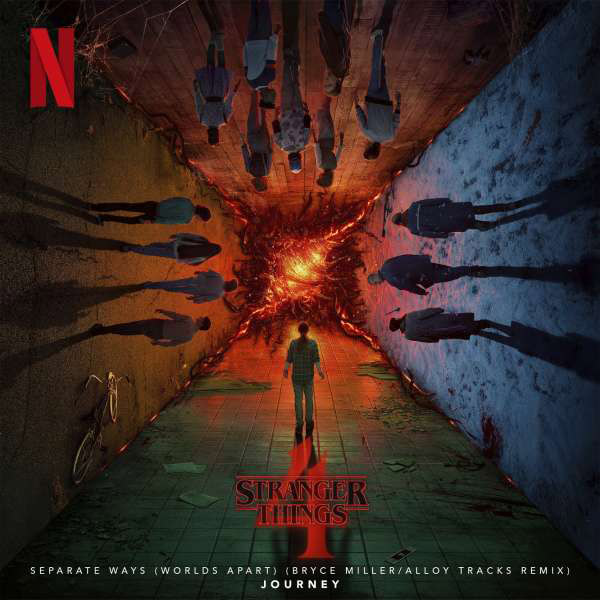 Als der legendäre Sänger, Songschreiber und Frontmann von Journey, Steve Perry, den Remix des Hits »Separate Ways (Worlds Apart)« seiner Band aus dem Jahr 1983 zum ersten Mal hörte, »war ich verblüfft, wie cool er war. Ich fand heraus, dass Bryce Miller und Troy MacCubbin den Remix erstellt hatten, und sagte ihnen, wie sehr ich ihn liebe. Eine Woche später hatte ich eine Idee für eine erweiterte Version, also rief ich Bryce an und wir stellten unseren Extended Remix zusammen. Da ich ein großer Fan der Serie bin, hat es mich sehr gefreut, dass meine Musik auf dem Soundtrack zu hören ist! Ich liebe diese beiden Remix-Versionen genauso sehr wie die Originalaufnahme von Journey Frontiers«. Der neue Steve Perry & Bryce Miller Extended Remix von »Separate Ways (Worlds Apart)« bietet einen epischen Abschluss für das Album.
Zwischen den »Separate Ways (Worlds Apart)«-Remixes wird Stranger Things: Soundtrack from the Netflix Series, Season 4 die actiongeladene, übernatürliche Welt der Serie durch sorgfältig ausgewählte, gut platzierte Musikstücke, die die emotionale Reise der Charaktere und ihrer Handlungsstränge unterstreichen. Vom Sound von KISS, die während eines entscheidenden Dungeons & Dragons-Spiels »Detroit Rock City« schmettern, bis hin zur Katharsis und psychischen Befreiung durch Kate Bushs »Running Up That Hill (A Deal With God)«, spielt Musik eine wesentliche Rolle in der Erzählung von »Stranger Things«.
Stranger Things: Soundtrack from the Netflix Series, Season 4 präsentiert Musiktitel, die an verschiedene klassische Epochen und Stile erinnern, die in »Stranger Things 4« vorkommen. Das Soundtrack-Album wurde von den Duffer Brothers und Nora Felder konzipiert und produziert (die Grammy- und Emmy-nominierte Nora Felder ist seit Beginn der Serie als Music Supervisor für »Stranger Things« tätig und wurde im ersten Jahr, in dem diese Kategorie von der Academy of Television Arts & Sciences anerkannt wurde, für einen Music Supervision Grammy nominiert). Das Compilation-Album wurde von den Duffer Brothers und dem zweifach für den Grammy nominierten Timothy J. Smith produziert.
Künstler: –
Titel: Stranger Things Vol. 4
Label:  Sony
Erscheinungsdatum: 04.11.2022
Auflage: n/a
! Bitte immer die Beschreibung (Variante/Ausführung) auf den Verkaufsplattformen beachten !