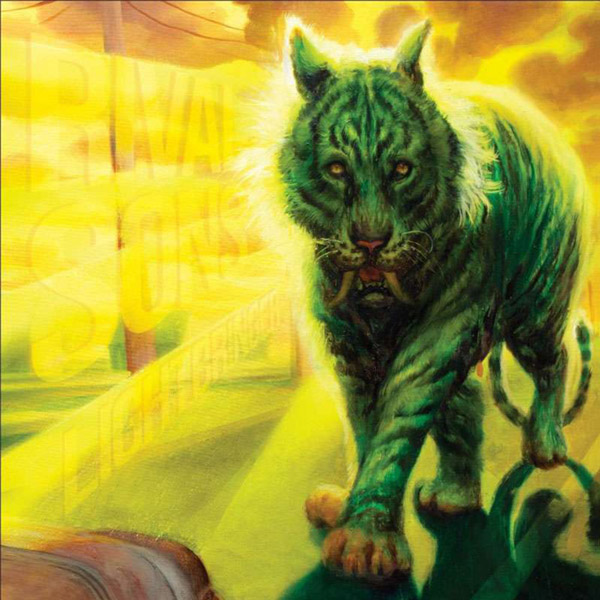 Die Rocker von Rival Sons aus Long Beach haben endlich die Details zu Lightbringer bekannt gegeben, dem Begleitalbum zu Darkfighter, das im Juni erschienen ist.
"Es ist der klassischste Rival-Sons-Song auf beiden Alben", sagt Frontmann Jay Buchanan. "Er enthält alle frühen Elemente dessen, was Rival Sons ist und war. Er entstand aus meiner Vorliebe für den Rock der Mittsechziger wie The Animals, The Kinks und die Bands, mit denen ich aufgewachsen bin. Es ist auch eine kleine Abwechslung zu all den schweren Themen; es ist ein richtiger Knaller."
Lightbringer wurde während der gleichen Sessions 2021 aufgenommen wie Darkfighter, mit dem langjährigen Produzenten Dave Cobb.
"Am Anfang war es ein einziges Album, aber die Sammlung wurde zu groß", so Buchanan gegenüber Classic Rock, "also mussten wir sie aufteilen, weil die Masse zu groß wurde. Also mussten wir die Sammlung aufteilen, damit es eine kurze Wartezeit zwischen den beiden gibt."
DARKFIGHTER und LIGHTBRINGER wurden von Dave Cobb produziert, mehrfacher Grammy-Preisträger und langjähriger Kreativpartner der Band. Die Alben markieren die erste neue Musik von Rival Sons seit der Veröffentlichung von FERAL ROOTS im Jahr 2019, das ihnen zwei Grammy-Nominierungen einbrachte in Deutschland einen Top-10-Erfolg erzielte.
Künstler: Rival Sons
Titel: Lightbringer
Label: Atlantic
Erscheinungsdatum: 20.10.2023
Auflage: n/a
! Bitte immer die Beschreibung (Variante/Ausführung) auf den Verkaufsplattformen beachten !
Das Datum basiert auf Vorabinformationen unserer Partner. Es ist ohne Gewähr und kann sich jederzeit ändern.