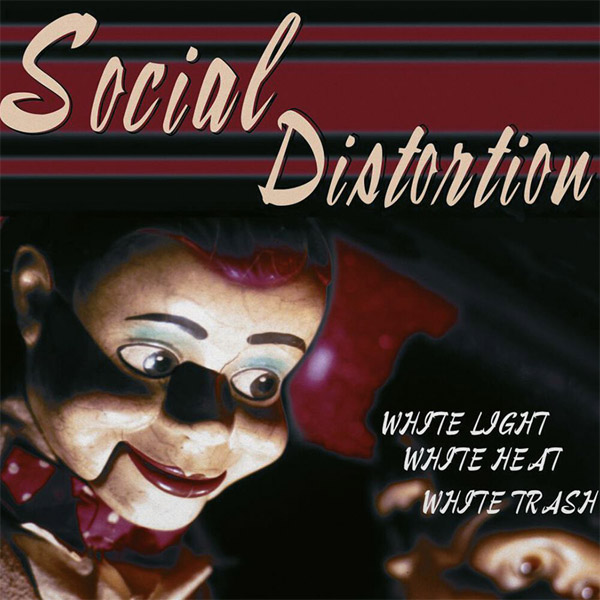 Für das 1996 veröffentlichte Album "White Light White Heat White Trash" ließen sich Songwriter Mike Ness und seine drei Mitstreiter vier Jahre Zeit. Das neue Longplay reflektierte (anders als sein an Country und Rockabilly orientierter Vorgänger) stark die "First Wave of American Punk" mit Vorbildern wie Dead Boys, The Dickies, X und Johnny Thunders. Die Anfang der 80er Jahre im südkalifornischen Orange Country gegründeten Social Distortion konnten für "White Light…" übrigens keinen geringeren als Michael Beinhorn (Soundgarden, Red Hot Chilli Peppers) als Produzent gewinnen.
"White Light, White Heat, White Trash" ist das fünfte Album der amerikanischen Punkrockband Social Distortion, das ursprünglich 1996 veröffentlicht wurde. Das Album wurde von Michael Beinhorn produziert.
Das Album erreichte die höchste Chartposition und stieg auf Platz 27 der Billboard 200 Album Chart ein. In der ersten Woche seiner Veröffentlichung wurden über 30.000 Exemplare verkauft. Es enthält die Hits "I Was Wrong", "Don't Drag Me Down" und eine gelobte Coverversion von "Under My Thumb" von den Stones. Stilistisch gilt das Album als Rückkehr zu ihren Hardcore-Punk-Wurzeln. Social Distortion ist eine der meistverkauften Punkrock-Bands und genießt weiterhin weltweiten Respekt und Unterstützung.
"White Light, White Heat, White Trash" ist als 25th Anniversary Limited Edition in einer Auflage von 4000 einzeln nummerierten Exemplaren auf silber-schwarz marmoriertem Vinyl erhältlich.