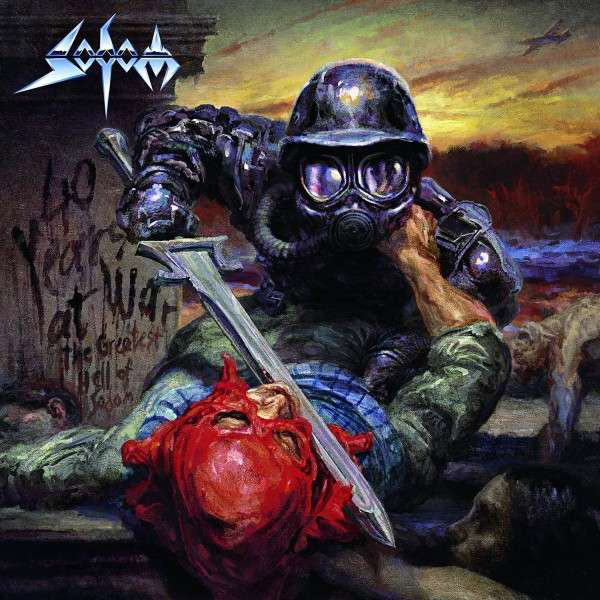 40 Jahre Sodom, 40 Jahre erbarmungsloser Thrash Metal 'Made in Germany'. Was 1982 in Gelsenkirchen-Buer ins Leben gerufen wurde, hat auch vier Jahrzehnte später nichts von seiner Authentizität und Rohheit verloren. Tom Angelripper und seine Mannen gehören nach wie vor zur Speerspitze eines Musikstils, der seine Energie aus purer Entschlossenheit, Unnachgiebigkeit und Unerbittlichkeit bezieht. Darüber hinaus gelingt es Sodom immer wieder, ihre Fans in aller Welt zu überraschen. Besonders gelungen ist ihnen das mit '40 Years At War – The Greatest Hell Of Sodom', einem mehr als würdigen Jubiläumsalbum, das – in verschiedenen Formaten – die Geschichte der Band auf ungewöhnliche und höchst ambitionierte Weise zusammenfasst.
Die Fanbox enthält: Digipak inkl. Poster, 2LP exklusives blaues Kristallvinyl nur für die Box, 2 Poster im Format A1, Handsignierte Fotokarte – A5 (von allen Bandmitgliedern!!!), Aufkleber – 10, 5 x 10, 5 cm, 72-seitiges Buch im LP-Format über die gesamte Geschichte der Band, MC inkl. Bonus Track "Equinox" 3: 18, Bonus CD mit den folgenden exklusiven Songs: 1. 1982 3: 23 / 2. Witching Metal 3: 27 / 3. Victims Of Death 5: 14 / 4. Let's Fight In The Darkness Of Hell 3: 07
Größe der Box: 31, 5 cm x 31, 5 cm aus hartem Kartonmaterial
Exklusiv bei EMP gibt es "transparent orange/black" im Gatefold, limitiert auf 300 Stück!
Künstler: Sodom
Titel: 40 Years At War – The Greatest Hell of Sodom
Label: Steamhammer
Erscheinungsdatum: 28.10.2022
Auflage: EMP Orange/Black 300
! Bitte immer die Beschreibung (Variante/Ausführung) auf den Verkaufsplattformen beachten !