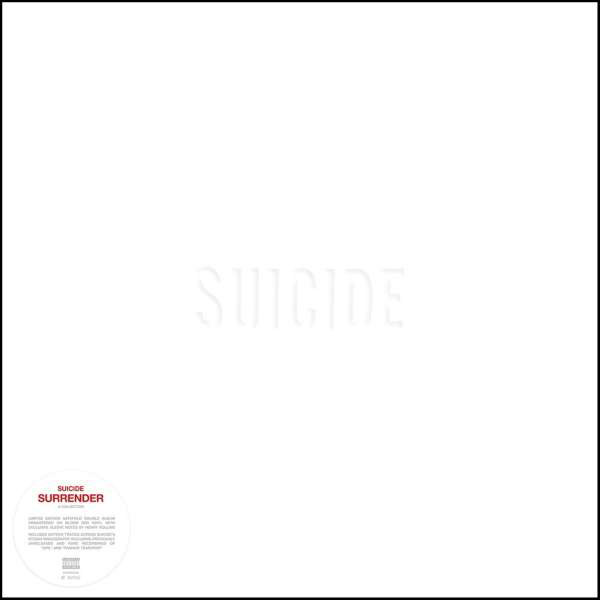 Für Fans und Interessierte
Suicide wurden 1970 von Sänger Alan Vega und dem Instrumentalisten Martin Rev gegründet. Das amerikanische Duo war mit Unterbrechungen bis 2016 aktiv und zählt zu den Pionieren des Elektro-Punks und im Einsatz minimalistischer elektronischer Instrumente, darunter Synthesizer und primitive Drumcomputer. Die Band gehörte zu den ersten Acts, die den Begriff »punk music« in einer Werbung für ein Konzert im Jahr 1970 verwendeten.

Mit »Surrender: A Collection« gibt es 2022, der Name deutet es an, eine neue Sammlung, ein Best-of aus 40 Jahren und für Interessierte eine perfekte Einführung in ihren Katalog.

Das Tracklisting, zusammengestellt von Marty Rev, Liz Lamere und Henry Rollins, Sänger der US-Punk-Band Black Flag und langjähriger Suicide-Fan, umfasst Tracks von ihrem Debütalbum »Suicide« (1977) bis zu ihrem letzten Werk »American Supreme« (2002). Außerdem enthält es mit »Girl« (Unreleased Version) und »Frankie Teardrop« (First Version) zwei bislang unveröffentlichte Titel. Alle Songs wurden für die »Surrender: A Collection«-Neuveröffentlichung von Denis Blackham bei Skye Mastering komplett neu gemastert. Abgerundet wird diese Sammlung auf Doppel-LP von neuen, ausführlichen Linernotes von Rollins.

Obwohl Suicide im Laufe ihrer Karriere nur wenig Anerkennung zuteilwurde, waren sie in den 1970er-Jahren doch inspirierend für viele andere Bands, darunter Soft Cell, Depeche Mode und The Jesus And Mary Chain. Zu ihren Fans gehören auch Künstler wie Nick Cave, Jim Thirlwell, M.I.A., Spiritualized, Lydia Lunch, Bobby Gillespie und Savages.