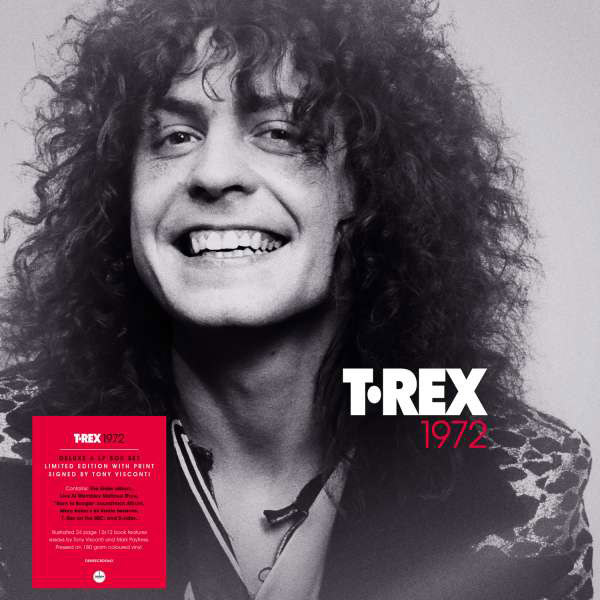 Ein Jahr voller T. Rextasy
1967 unter dem Namen Tyrannosaurus Rex von Marc Bolan (Vocals, Gitarre) und Steve Peregrin Took (Perkussion, Backing Vocals) in London gegründet, benannte sich die Band 1970 in T. Rex um. Angefangen mit Psychedelic Folk gehörten die Briten bald zu den bekanntesten Vertretern des Glam Rock. Ein besonderes Jahr in der Karriere der Band war das Jahr 1972. Und genau diesem widmet sich 50 Jahre später das Box Set »1972«. Wahlweise auf fünf CDs oder sechs LPs sowie als Doppel-LP auf White Vinyl mit den Highlights versammelt »1972« Studioaufnahmen, Radio- und Livemitschnitte von Marc Bolan und T. Rex.

Nachdem T. Rex bereits 1971 mit dem Nummer-eines-Album »Electric Warrior« und mehreren Nummer-eins und Top-3-Singles zu Superstars wurden, erreichten sie 1972 die nächsten Top-Platzierungen: »Telegram Sam« und »Metal Guru« schafften es im UK auf die Eins, »Children Of The Revolution« und »Solid Gold Easy Action« auf die Zwei und das Album »The Slider« Platz vier. In der Presse war von »T. Rextasy« die Rede.

Die neuen T. Rex-Boxen enthalten das »Slider«-Album, das Album »Live At Wembley The Matinee Show« plus zwei bisher unveröffentlichte 1972er-Mixe von »The Evening Show«, »Born To Boogie: The Soundtrack Album«, das zum ersten Mal in voller Länge veröffentlicht wird, Marc Bolans »US Radio Sessions«, »T. Rex On The BBC 1972« mit einer seltenen Version von »Telegram Sam« aus der Weihnachtssendung »Top Of The Pops«, die 50 Jahre nach dem Erscheinen der Originalsingle veröffentlicht wird, den B-Seiten von 1972 und der »T. Rex Fan Club 1972 Christmas«-Flexi Disc. Das jeweilige Tracklisting von »1972« finden Sie im Folgenden.

Das beiliegende Booklet enthält eine eigens verfasste, 1600 Wörter umfassende Einführung des Produzenten Tony Visconti und ein brandneues, 12.000 Wörter umfassendes Essay des Bolan-Experten Mark Paytress, Autor der definitiven Bolan-Biografie. Außerdem sind viele bisher unveröffentlichte Fotos von Keith Morris aus dem Jahr 1972 enthalten.
Künstler: T.Rex
Titel: 1972
Label: Demon Music Group
Erscheinungsdatum: 22.04.2022
Auflage: n/a
! Bitte immer die Beschreibung (Variante/Ausführung) auf den Verkaufsplattformen beachten !