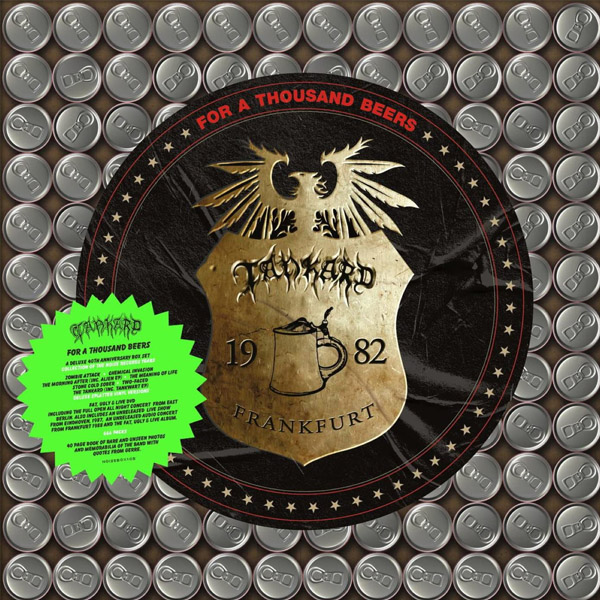 Tankard wurde 1982 gegründet und ist eine deutsche Thrash Metal Band aus Frankfurt am Main. Neben Kreator, Destruction und Sodom, zählen sie zu den "Big Four" des deutschen Thrash Metals. Stilistisch im Thrash Metal zuhause thematisieren ihre Songs vor allem Alkohol.
Mit "Zombie Attack" veröffentlichten sie im Juli 1986 ihr erstes Album. Ein Jahr später, im Oktober 1987, folgte ihr zweites Album, "Chemical Invasion" und 1988 "The Morning After".
Nachdem der erste Schlagzeuger, Oliver Werner, die Band verlassen hatte und durch Arnulf Tunn ersetzt wurde, erschienen die drei Alben: "The Meaning of Life", "Stone Cold Sober" und "Two-Faced". Zur gleichen Zeit veröffentlichten Tankard das Live Album: "Fat, Ugly and Live". Anschließend wechselte sich das Line Up der Band erneut. Im Mai 1994 wurde Arnulf Tunn durch Olaf Zissel ersetzt, welcher bis zum heutigen Tage die Drums spielt. Ein Jahr später sah sich ein weiteres Gründungsmitglied, Axel Katzmann, gezwungen die Band zu verlassen, aufgrund einer Arthrose Erkrankung im Handgelenk. Im selben Jahr veröffentlichte die Band "The Tankard", welches ihr letztes Album mit Noise war.
Jetzt feiert die Band ihr 40-jähriges Jubiläum, spielt Gigs auf der ganzen Welt, recorded und veröffentlicht neue Musik.
Die Deluxe Box enthält folgende Alben:
Zombie Attack
Chemical Invasion
The Morning After (Including Alien EP)
The Meaning Of Life
Stone Cold Sober
Two-Faced
The Tankard (Including Tankwart EP)
& Fat, Ugly & Live – DVD (Enthält 'Open All Night – Live In East Berlin' sowie ein bisher unveröffentlichtes Videokonzert aus Eindhoven '87 und ein Audiokonzert aus Frankfurt '87. Enthält auch das Album Fat, Ugly & Live.)
+12″ x 12″, 40-seitiges Buch mit Fotos, Zitaten und Texten aus der Zeit, als sie bei Noise Records unter Vertrag waren. Enthält seltene und bisher nicht gezeigte Fotos aus dieser Zeit.