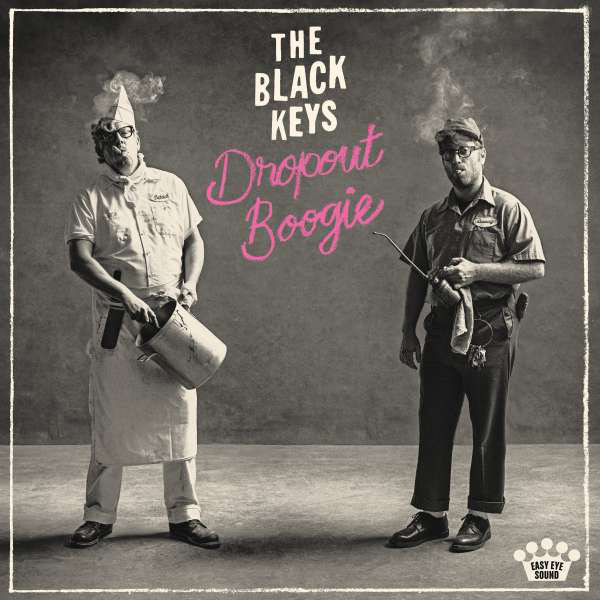 Nach 10 Alben, von denen die letzten fünf in den Top 10 oder besser platziert waren, sechs Grammy-Auszeichnungen und ausverkauften Tourneen rund um die Welt sind The Black Keys zurück: Das Duo, das von Stephen Colbert als »America's Most Trusted Band« und von Uncut als »eine der besten Rock'n'Roll-Bands des Planeten« bezeichnet wurde, veröffentlicht am 13. Mai sein elftes Studioalbum Dropout Boogie. Dropout Boogie enthält Kollaborationen mit Billy F. Gibbons (ZZ Top), Greg Cartwright (Reigning Sound), und Angelo Petraglia (Kings of Leon).
Dropout Boogie erscheint einen Tag vor dem zwanzigsten Jahrestag des ersten Albums von The Black Keys, The Big Come Up. Wie schon in ihrer gesamten Karriere hat das Duo Dan Auerbach und Patrick Carney das gesamte Material im Studio geschrieben, und das neue Album enthält eine Reihe von First Takes, die an den nüchternen Bluesrock ihrer frühen Tage erinnern, als sie in den Kellern von Akron, Ohio, gemeinsam Musik machten.
»Das war schon immer das Schöne an der Sache, die Pat und ich machen. Es ist sofort«, sagt Auerbach. »Wir mussten nie wirklich daran arbeiten. Wann immer wir zusammenkamen, haben wir einfach Musik gemacht, wissen Sie? Wir wussten nicht, was wir machen würden, aber wir haben es einfach gemacht und es klang cool. Das ist die natürliche Chemie, die Pat und ich haben. Dass wir so lange in einer Band sind, ist ein Beweis dafür. Es war ein echtes Geschenk, das uns gemacht wurde. Ich meine, die Wahrscheinlichkeit, eineinhalb Blocks voneinander entfernt in Akron, Ohio, zu wohnen, scheint einfach verrückt.«
Nachdem sie die ersten Ideen als Duo in Auerbachs Easy Eye Sound Studio in Nashville ausgearbeitet hatten, begrüßten Auerbach und Carney ihre neuen Mitstreiter Billy F. Gibbons, Greg Cartwright und Angelo Petraglia zu den Dropout Boogie-Sessions. Obwohl die Black Keys schon früher gemeinsam mit Danger Mouse Songs geschrieben haben, ist dies das erste Mal, dass sie mehrere neue Mitwirkende eingeladen haben, gleichzeitig an einem ihrer eigenen Alben zu arbeiten. Sowohl Cartwright als auch Petraglia sind auf der ersten Single des neuen Albums, »Wild Child«, zu hören.
Die Black Keys hatten bereits vor mehr als einem Jahrzehnt mit der ZZ Top-Gitarrenlegende Billy F. Gibbons in Los Angeles gejammt, während ZZ Top an einem Album mit dem Produzenten Rick Rubin arbeiteten. »Wir haben nie wirklich einen Song geschrieben – wir hatten nur ein paar Ideen, die wir aufgeschrieben haben«, so Carney. »Wir wollten wirklich nur mit ihm abhängen. Wir blieben in Kontakt, und Dan lud ihn ins Studio ein, als wir mit der Arbeit an diesem Album begannen.«
Bei hhv als GSA Exclusive White Vinyl Edition erhältlich.