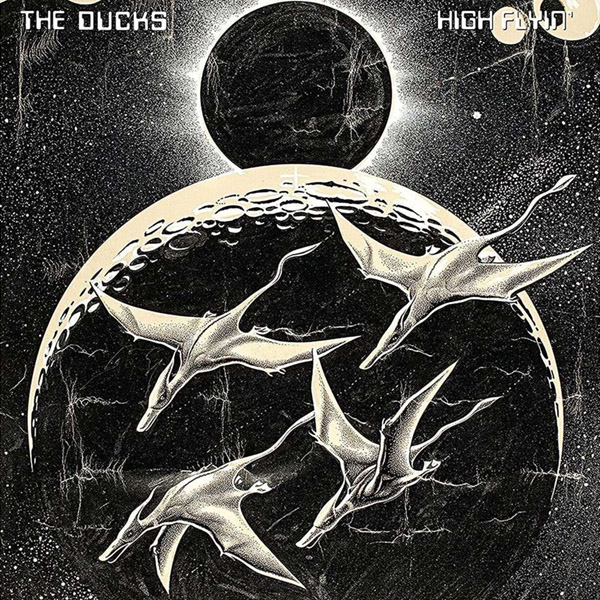 »High Flyin'« ist ein einzigartiges Doppel-Live-Album (jetzt auf Dreifach-Vinyl) aus dem Sommer 1977, aufgenommen von einer legendären nordkalifornischen Band namens The Ducks.
Es handelte sich um eine Band, die oft unangekündigt in ihren eigenen Hinterhöfen in Clubs wie dem Back Room, dem Crossroads Club, dem Catalyst und anderen auftrat. Mit dabei waren Neil Young (Gitarre, Mundharmonika und Gesang), Bob Mosley (Bass und Gesang), Jeff Blackburn (Gitarre und Gesang) und Johnny Craviotto (Schlagzeug und Gesang).
In der magischen Zeit, in der The Ducks existierten, verbreiteten sich die Gerüchte über ihre Auftritte wie von selbst, so dass sich die kleinen Zuschauer wie die Auserwählten fühlten und alle, die das Glück hatten, dabei zu sein, mit ihren Leistungen prahlen konnten. Die Setlisten des Quartetts enthielten Songs aus den unterschiedlichsten Bereichen der Bandmitglieder und wurden oft erst am Abend des Auftritts festgelegt.
Diese neue Sammlung dieser Abende sowie zweier Abende im nahegelegenen Studio von Magical Devices wurde jahrzehntelang in Raubkopien veröffentlicht, und »High Flyin'« ist nun eine offizielle Veröffentlichung, mit der viele Fans nie gerechnet hätten. »High Flyin'« setzt den freilaufenden Geist von The Ducks fort und zeigt, dass die Überraschungen des Rock ›n‹ Roll grenzenlos bleiben.
Künstler: The Ducks
Titel: High Flyin' – Live
Label: Reprise
Erscheinungsdatum: 14.04.2023
Auflage: n/a
! Bitte immer die Beschreibung (Variante/Ausführung) auf den Verkaufsplattformen beachten !
Das Datum basiert auf Vorabinformationen unserer Partner. Es ist ohne Gewähr und kann sich jederzeit ändern.