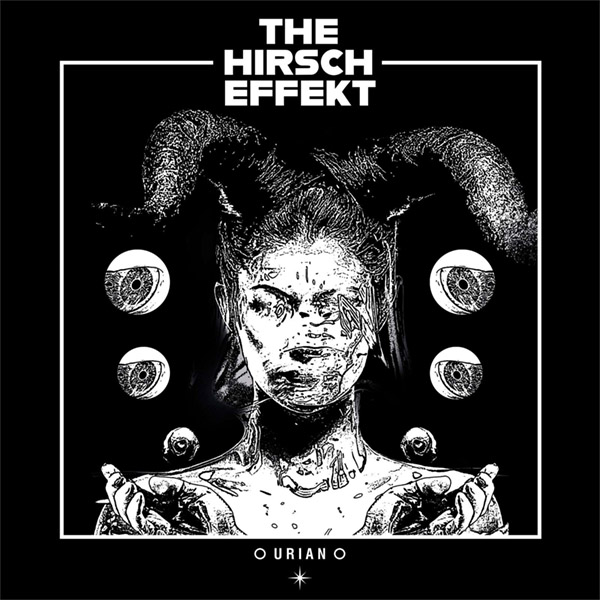 Als Progressive Metal getarnt, verdrehen The Hirsch Effekt auf ihrem sechsten Full-Length-Album "Urian" erneut ihre Gewohnheiten. Das neue Album taucht musikalisch tief in die immer aufdringlicher werdende Ambivalenz zwischen Krisen und Alltag ein.
"Urian" ist der Name des ungebetenen Gastes, dessen Begegnung meist recht unerwünscht ist. Fast eine Stunde lang zieht er einen mit seinem Sound in seinen Bann und weist mit einer heimtückischen Umarmung geschickt auf den ganzen krummen Mist hin! Urian nimmt sich Zeit, lässt uns atmen und verschnaufen zwischen kraftvollem Dauergeplätscher. Atmosphärische Collagen weiten sich aus, harte Schnitte treten auf – wenn auch manchmal auf einfühlsame akustische Weise mit ausgefeilten Vocals und groovigen Passagen – bis "Urian" einen aus dem Nichts wieder grob von der Seite in die Eingeweide stößt.
Deutlich weniger konzeptionell als das 2020er Album "Kollaps", ist es dennoch eine absolute Weiterentwicklung. Textliche Chiffren wirken intimer, Zusammenhänge und Bezüge sind scheinbar offensichtlich. Es werden gesellschaftspolitische Themen diskutiert, in denen die Musiker sich selbst und aktuelle Entwicklungen kritisch hinterfragen. Neben demokratiezerstörenden Bots, die sich in Instagram-Kommentaren in den Köpfen der Menschen einnisten, gibt The Hirsch Effekt denjenigen eine Stimme, die keine haben oder auf die das schöne Leben noch wartet. Aus diesem dystopischen, aber klaren Welt- und Werteverständnis erwächst eine zivilisierte Hoffnung, dank derer "Urian" noch zum Tee bleiben darf.
Erhältlich als:
Standard "Black" Vinyl im GF mit Etching auf Seite D
Limited Edition Box *500 Stück
Künstler: The Hirsch Effekt
Titel: Urian
Label: Long Branch
Erscheinungsdatum: 29.09.2023
Auflage: s.o.
! Bitte immer die Beschreibung (Variante/Ausführung) auf den Verkaufsplattformen beachten !
Das Datum basiert auf Vorabinformationen unserer Partner. Es ist ohne Gewähr und kann sich jederzeit ändern.