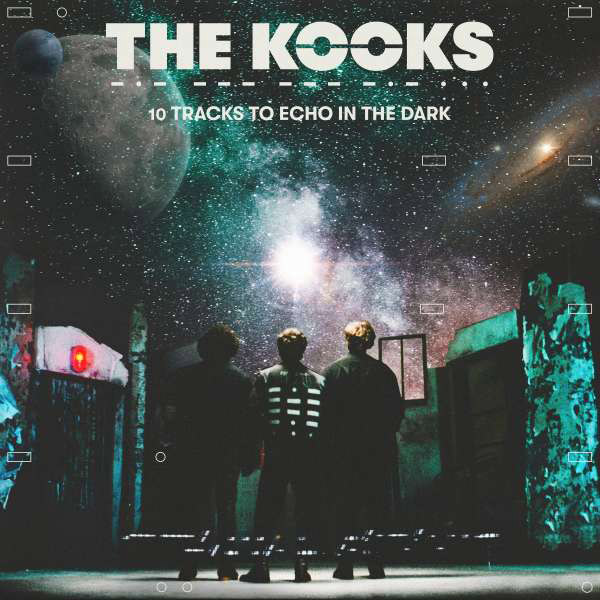 Das Berlin-Album
Luke Pritchard hat seinen inneren Frieden gefunden. Und er hat ihn vertont, natürlich mit seiner Band The Kooks: »10 Tracks To Echo In The Dark« heißt die neue, sechste Platte der britischen Indierocker, mit der sie ihre vierjährige Releasepause beenden. Ihr letztes Studioalbum »Let's Go Sunshine« erschien nämlich bereits 2018.

Der Name verrät: Zehn Songs haben The Kooks für das Album geschrieben. Bandchef und Sänger Pritchard ließ sich dabei unter anderem von seiner Hochzeit und seiner ersten Vaterschaft inspirieren, die ihm seinen »inneren Frieden« gebracht haben. »Ich hoffe wirklich, dass dieses Gefühl des inneren Friedens rüberkommt. Ich möchte an diesem Punkt wirklich Spaß mit meinem Leben haben. Aber es ist auch eine Art Reflektion dessen, was ich in Echtzeit in der Welt vor und nach COVID gefühlt habe.«, so der Musiker.

Für die Aufnahme von »10 Tracks To Echo In The Dark« verschlug es die Band aus Brighton diesmal nach Berlin. Die Arbeit dort begann bereits vor der Corona-Pandemie mit dem Produzenten Tobias Kuhn. Obwohl das Album in London fertiggestellt wurde, sei die europäische Note eine bewusste Reaktion auf die anhaltenden Probleme für britische Musiker nach dem Brexit. Pritchard über den Tapetenwechsel: »Viele Songwriter haben in Berlin Zuflucht gefunden. Es ist ein freier Ort, der nicht so sehr vom Kommerz vereinnahmt wird. Ich war auf der Suche nach etwas, das rauer ist, etwas, das minimalistischer ist. Manchmal schnappt man diese Nuancen einfach irgendwo auf. Es sind nicht unbedingt die Leute, es ist der Ort.«

Neben den drei Kooks-Musikern, Pritchard, Hugh Harris und Alexis Nuñez, sind auf »10 Tracks To Echo In The Dark« auch ein paar Gäste mit von der Partie: das deutsche Folktronica-Duo Milky Chance und der schwedischen EDM-Musiker Neikid.

Für die Veröffentlichung der Platte haben The Kooks eine ungewöhnliche Methode gewählt. »10 Tracks To Echo In The Dark« erscheint zunächst in Form von zwei 3-Tracks-EPs, bevor am Album-Release-Tag die letzten vier Songs enthüllt werden. Los ging es im Januar mit der »Connection«-EP und den Songs »Connection«, »Jesse James« und »Modern Days«.

Sie steigen die Vorfreude auf »10 Tracks To Echo In The Dark«, das am 22. Juli als Komplettwerk erscheint, und zwar auf CD, klassisch-schwarze LP und transparente Vinyl. Letztere gibt es exklusiv für jpc auch signiert. Natürlich nur, solange der Vorrat reicht. Alle Formate können jetzt schon vorbestellt werden.
Künstler: The Kooks
Titel: 10 Tracks To Echo In The Dark
Label: Lonely Cat
Erscheinungsdatum: 22.07.2022
Auflage: n/a
! Bitte immer die Beschreibung (Variante/Ausführung) auf den Verkaufsplattformen beachten !