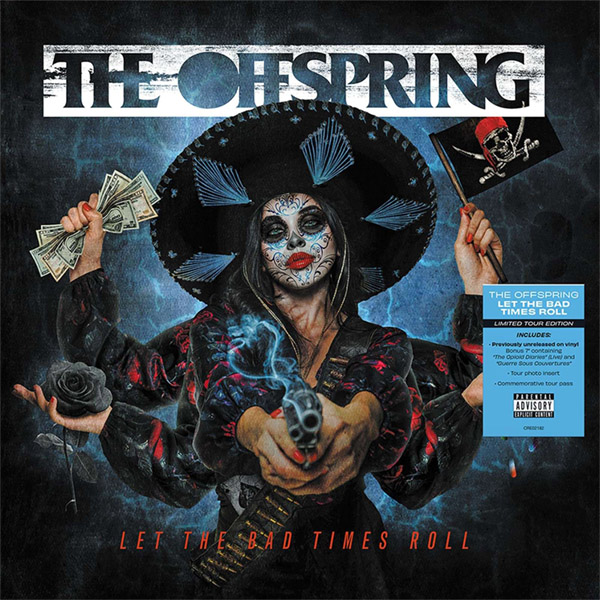 Comeback perfekt
Ganze neun Jahre sind seit »Days Go By«, dem letzten Album von The Offspring, vergangen, das in Deutschland Platz fünf der Charts erreichte.

Umso schöner, dass die US-amerikanischen Punk-Rock-Ikonen 2021 endlich eine neue Platte vorstellten, ihr mittlerweile zehntes Studiowerk: »Let The Bad Times Roll«.

»Let The Bad Times Roll« entstand in Zusammenarbeit mit Producer Bob Rock.

Musikalisch bleiben The Offspring sich treu: Insgesamt warten zwölf mitreißende Punkrockbretter auf der Platte.

Wie »Let The Bad Times Roll« klingt, verrieten Dexter Holland, Noodles und Co bereits mit dem Titeltrack.

Und der zeigt: Dieses Album war längst überfällig. Mit »Let The Bad Times Roll« machen The Offspring ihr Comeback perfekt.

Mit "Let The Bad Times Roll" hat The Offspring eines ihrer bisher erfolgreichsten Alben veröffentlicht. Um besonders den europäischen Fans dafür zu danken, gibt es zur Tour eine exklusive Version des Albums. Diese enthält das Standard-Album, eine 4-seitige Farbbeilage mit noch nie gezeigten Fotos von der Tour, einen Backstage-Pass als Souvenir und eine Bonus-7″ mit einer Live-Aufnahme von "The Opioid Diaries" und einer Studioaufnahme von "Guerre Sous Couvertures", der französischen Version von "We Never Have Sex Anymore", die beide bisher nicht auf Vinyl erhältlich waren.
Künstler: The Offspring
Titel: Let The Bad Times Roll
Label: Concord
Erscheinungsdatum: 05.05.2023
Auflage: n/a
! Bitte immer die Beschreibung (Variante/Ausführung) auf den Verkaufsplattformen beachten !
Das Datum basiert auf Vorabinformationen unserer Partner. Es ist ohne Gewähr und kann sich jederzeit ändern.