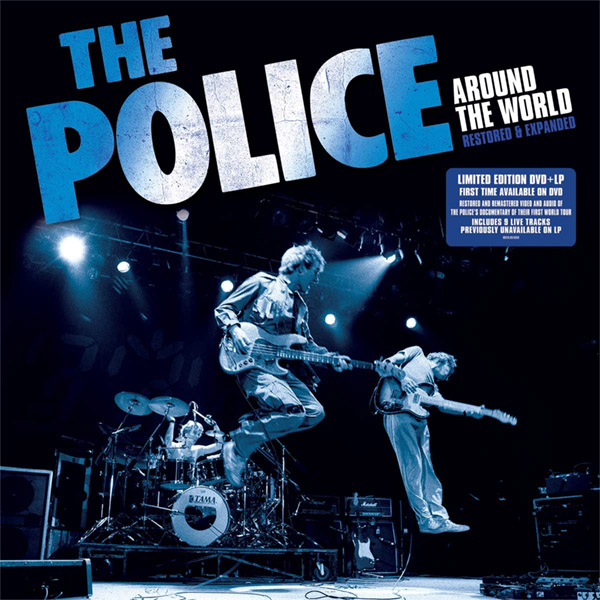 Mercury Studios freut sich, eine Veröffentlichung aus den Archiven von The Police anzukündigen: "Around The World Restored & Expanded", die die erste internationale Tournee der Gruppe in den Jahren 1979 und 1980 in den Mittelpunkt stellt. Der Film, der im Stil eines Reiseberichts präsentiert wird, zeigt die Band auf und abseits der Bühne, wie sie die lokale Kultur erkundet und vor Fans auf 6 Kontinenten auftritt. Die Show war bisher nur auf VHS und Laserdisc erhältlich. Für die Erstveröffentlichung auf DVD und Blu-ray wurde das Bildmaterial restauriert und der Ton neu abgemischt und gemastert. 4 komplette Auftritte aus der Show sind als DVD- und BD-Bonus-Features enthalten und werden mit Live-Audio auf CD oder LP gebündelt sein. Eine vollständige Liste der Formate finden Sie unten.
Around The World begleitet The Police auf ihrer ersten Welttournee in den Jahren 1979 und 1980, bei der sie 6 Kontinente besuchen und ihre Fangemeinde Show für Show, Land für Land und Song für Song aufbauen. Zwischen den Auftritten bietet der Film einen heiteren Blick auf die Band auf ihrer Reise um die Welt und ihre Besuche bei lokalen Sehenswürdigkeiten. Around The World wird mit restauriertem Bild und remastertem Ton präsentiert und enthält vollständige Auftritte von 4 Songs, die in der Dokumentation vorkommen.
Aufgenommen während der ersten Welttournee von The Police, zeigt die CD & LP, wie Sting, Andy Summers und Stewart Copeland mit einer Begeisterung und Leidenschaft spielen, die sie zur größten Band der Welt machen sollte. Die in Japan, Hongkong und England aufgenommenen Auftritte enthalten Stücke aus ihren ersten beiden Alben.
Die DVD+CD und die Blu-ray+CD werden mit einem Kommentar des Police-Gitarristen Andy Summers versehen.
Tracks:
1 Walking on the moon
2 Deathwish / bo diddley
3 So lonely
4 Can't stand losing you / day-o
5 Truth hits everybody
6 Roxanne
7 Born in the 50's
8 Message in the bottle
9 Bring on the night
1 Around the world
2 Walking on the moon
3 Next to you
4 Message in a bottle
5 Born in the 50's