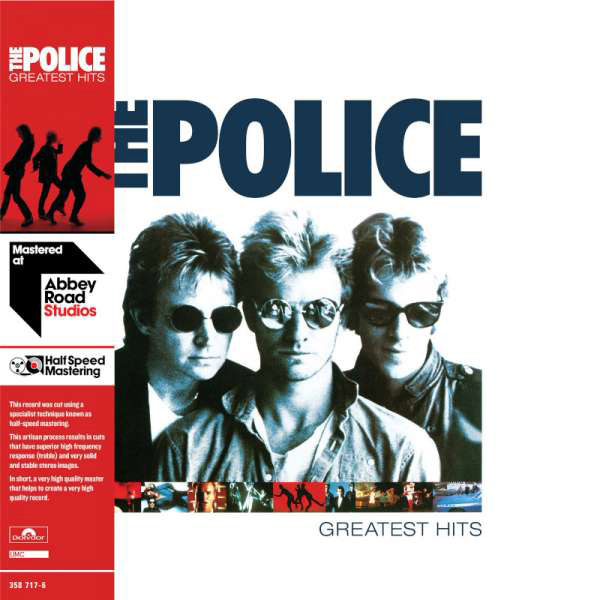 Die »Greatest Hits« auf Platte
Zum 30. Jubiläum des »Greatest Hits«-Albums von The Police legen die britischen Rockikonen die Kompilation 2022 noch einmal neu auf, und zwar als limitierte Half-Speed-Remastered-Doppel-LP.

Das Album wurde in der Abbey Road neu gemastert und mit halber Geschwindigkeit geschnitten, um die ultimative Klangqualität zu gewährleisten. Während die erste Vinyl-Pressung nur eine LP umfasste, kommt das Reissue auf zwei schweren LPs auf Black Vinyl im Gatefold Cover. Das Artwork wurde erweitert.

Die »Greatest Hits« von The Police erschienen ursprünglich im September 1992 als zweites Best-of-Album der Band nach »Every Breath You Take: The Singles«.

Die Sammlung enthält alle 14 britischen Top-20-Chartsingles, die The Police zwischen 1978 und 1984 veröffentlichten, darunter die fünf britischen Nummer-eins-Hits »Message In A Bottle«, »Walking On The Moon«, »Don't Stand So Close To Me«, »Every Little Thing She Does Is Magic« und »Every Breath You Take«, außerdem Klassiker wie »Roxanne« und »So Lonely«. Zusätzlich warten die beiden Bonusracks »The Bed's Too Big Without You« und »Tea In The Sahara«.

»Greatest Hits« erreichte in Großbritannien Platz zehn der Charts. In Frankreich und Neuseeland schaffte es das Album sogar bis auf Platz eins.