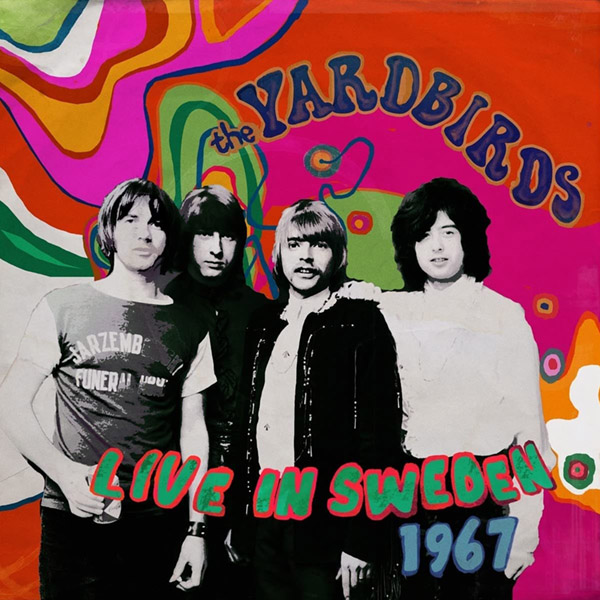 Limitiertes 10″-Album mit acht Titeln, die live in Stockholm im April 1967 aufgenommen wurden, in einer noch nie dagewesenen Klangqualität präsentiert.
– Die Yardbirds mit Keith Relf, Jimmy Page, Chris Dreja & Jim McCarty
– Aufgenommen in Stockholm, April 1967 zu Beginn ihrer Skandinavien-Tournee
– Beeindruckendes Cover mit einem Essay von Chris Welch von Repertoire
– Streng limitierte Auflage – ein Muss für Sammler!
Die Yardbirds hatten seit ihrer Gründung mehrere Besetzungswechsel hinter sich – nicht zuletzt durch den Weggang des Gitarristen Eric Clapton im März 1965. 1966 verließ Gründungsmitglied und Bassist Paul Samwell-Smith die Band, um sich auf die Produktion zu konzentrieren, und der Gitarrist Jeff Beck verließ die Band später im selben Jahr.
Die Yardbirds bestanden nun aus Keith Relf (Gesang, Mundharmonika), Jimmy Page (Leadgitarre), Chris Dreja (Bass) und Jim McCarty (Schlagzeug), die ihre Frühjahrstournee 1967 durch Skandinavien mit einem acht Lieder umfassenden Set unter dem Titel Popgäster I Stockholm, das für Schwedens nationalen Fernsehsender SRT aufgenommen wurde.
Neben den Hits ›Heart Full Of Soul‹, ›I'm A Man‹ und ›Shapes Of Things‹ ist auch der Titelsong ihres neuen Albums Little Games zu hören. Während die Yardbirds ihre R&B-Wurzeln in Ehren halten, ist dieser Auftritt die Yardbirds einen schwereren, psychedelischeren Vibe, der durch ›Over Under Sideways Down‹ verkörpert wird – wahrhaftig ein Vorbote der Zukunft.
Repertoire freut sich, diese Aufnahmen in einer noch nie dagewesenen Klangqualität zu präsentieren, komplett mit einem neuen Essay von Chris Welch. Ein Muss für alle Yardbirds-Fans, dieses Sammleredition 10″-Album wird streng limitiert sein.
Künstler: The Yardbirds
Titel: Live In Sweden 1967
Label: Repertoire
Erscheinungsdatum: 28.04.2023
Auflage: n/a
! Bitte immer die Beschreibung (Variante/Ausführung) auf den Verkaufsplattformen beachten !
Das Erscheinungsdatum basiert auf Vorabinformationen unserer Partner.
Es ist ohne Gewähr und kann sich jederzeit ändern.