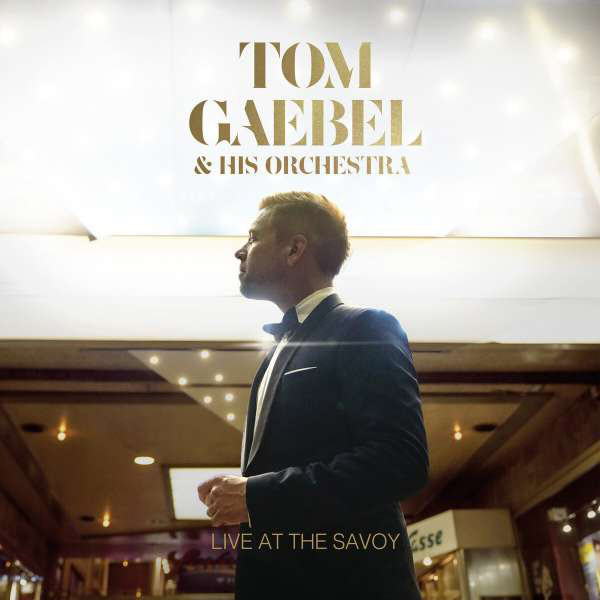 Liebe Leute,
nein, dies ist kein verfrühter April-Scherz noch im alten Jahr.

Es gibt eine CD im Digipack mit 16 Live-Songs und, das finde ich besonders schön, ein limitiertes Earbook mit 48 Seiten großformatigem Booklet inkl. 2 CD's mit noch mehr Live-Songs sowie einer DVD mit einem Making of & Videos sowie eine 10inch-Vinyl mit den Titeln »Auf die Eleganz« und »Here's To Elegance«. Ich würde mich sehr freuen, wenn es Euch gefällt.
Euer Tom
2020 feierte TOM GAEBEL sein 15jähriges Jubiläum mit der Veröffentlichung des Chart-Albums »The Best Of Tom Gaebel«. Eine große Jubiläumstournee sollte 2021 folgen, doch die wurde wie so viele andere auch Corona-bedingt bereits zweimal verschoben.
Die Kick Off-Show der Jubiläumstournee fand aber am 06. September 2021 im Savoy Theater in Düsseldorf statt und wurde audio- und videomäßig aufgezeichnet. Der berauschende Abend, der TOM GAEBEL & HIS ORCHESTRA in wunderbarer Spiellaune zeigt, beinhaltet einen sehr gelungenen Querschnitt mit den beliebtesten Live-Songs von TOM GAEBEL, für die seine Fans in Vorfeld abgestimmt hatten. Das Ergebnis ist »Live At The Savoy«, das erste Live-Album in der Karriere von TOM GAEBEL.
Das Album beinhaltet eigene Songs wie »The Cat«, »Feels like home« oder seinen bekanntesten Song »It's A Good Life«. Dazu kommen Adaptionen großer Swing & Big Band-Klassiker und Evergreens des Great American Songbook,. Songs, die Frank Sinatra unsterblich gemacht haben wie »Fly Me To The Moon«, »That's Life« oder »My Way« sowie Songs von Tom Jones (»Help yourself«), Louis Prima (»Just A Gigolo«) oder Nat King Cole (L.O.V.E.) und viele andere mehr.
Künstler: Tom Gaebel
Titel: Live At The Savoy
Label: Tomofon
Erscheinungsdatum: 06.05.2022
Auflage: n/a
! Bitte immer die Beschreibung (Variante/Ausführung) auf den Verkaufsplattformen beachten !