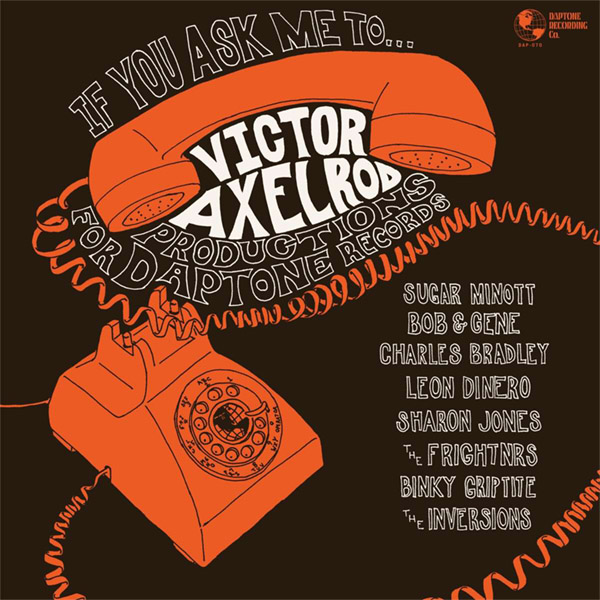 Daptone bzw Soul/R&B/Reggae Fans dürfen sich freuen! Victor Axelrod, sowohl legendärer Produzent, Arrangeur, Aufnahme- und Mischtechniker, als auch Keyboarder, hat bereits über mehr als zwei Jahrzehnte diverse Veröffentlichungen des New Yorker Labels veredelt.
Mit »If You Ask Me To…« erscheint nun die erste LP unter seinem Namen für das Label – eine exzellente Sammlung an Singles, die zwischen 2007 und 2023 veröffentlicht wurden, sowie unveröffentlichten Tracks von Sugar Minott und Binky Griptite. Der Ursprung des Albums liegt in einer Anfrage von Daptone nach einem Sharon Jones-Remix (2007), aus dem die Reggae-Version von »How Long Do I Have To Wait For You?« hervorging. Dies öffnete die Tür zu weiteren Erkundungen von Reggae/Soul-Synergien innerhalb des Katalogs und bestätigte die musikalische und kulturelle Verbindung zwischen Daptones »Kern-Soul-Sound« und Axelrods Leidenschaft für jamaikanische Musik.
Dank Axelrods außergewöhnlichem Geschmack und den bemerkenswerten Beiträgen des Gitarristen Tom Brenneck, Originalbändern aus Bob & Genes MoDo-Diskografie, Mitgliedern von The Frightnrs u.a. aus der New Yorker Reggae-Community wird das Vermächtnis bahnbrechender jamaikanischer Künstler wie Alton Ellis, Tony Gregory und Ken Parker weiterleben und eine ganz neue Generation von Reggae- und Soul-Fans inspirieren.
Künstler: Victor Axelrod
Titel: If You Ask Me To
Label: Daptone
Erscheinungsdatum: 22.09.2023
Auflage: n/a
! Bitte immer die Beschreibung (Variante/Ausführung) auf den Verkaufsplattformen beachten !
Das Datum basiert auf Vorabinformationen unserer Partner. Es ist ohne Gewähr und kann sich jederzeit ändern.